Cambridge & UK 'Ready' For Tour De France
13 June 2014, 08:49 | Updated: 13 June 2014, 08:56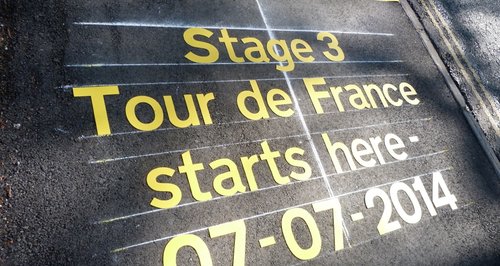 The final 'readiness' report into the Tour de France UK stages, including in Cambridge, has been released.
The report says plans to host the world's biggest cycle race ''are now in place and being refined''.
It adds the event will be "one of the biggest free sports events ever held in Britain."
The Cambridge stage, stage three, is on Monday 7th July.
The stage will begin in Cambridge, travelling through Essex and finish in London.
Around 120 thousand spectators are expected in Cambridge to watch the event.
Stages one and two will be held in Yorkshire during the two days immediately beforehand.
The report reveals the challenge of planning the event.
More than 100 kilometres of barriers and fencing have been secured, along with 30,000 traffic cones, 5,000 road signs, 2,500 event management radios, more than 2,000 temporary toilets and more than 70 kilometres of event bunting.
Chair of TdFHUB2014 Ltd Sir Rodney Walker said: "I am delighted to be able to say all of the plans are now in place and being refined and tested to deliver something special - an event which will be enjoyed by millions of people at the roadside and will showcase the very best of the UK to a massive global audience.
An immense amount of work has been carried out to prepare for these historic three days, and we are confident that work will result in a fantastic occasion not to be forgotten.
From the very start of this process the focus for the whole team was to make this the best start to the Tour de France ever seen.
I am confident what you will see will be just that, and I would like to thank the organisers ASO plus all of the partners and supporters involved for their incredible hard work in bringing everything together and making this happen.
This will be a world-class event for everyone to enjoy and we are counting down the days to July the fifth."
Minister for Sport and Tourism Helen Grant MP added: "Preparations to stage the start of the biggest cycle race in the world are in the home straight and I am pleased that everything is on track.
The Grand Départ will be an unforgettable experience for millions, showcasing the best of Yorkshire, Cambridge, Essex and London.
Not only will it help boost the economy, local tourism and businesses where the race passes through it will also leave a real legacy for the sport of cycling, inspiring more people to get involved.
It has been a big team effort to get to this point and I know that everyone remains completely focused on putting on a fantastic event in three weeks' time."