£18.6m Ward Block Opens At Lister Hospital
8 July 2014, 06:00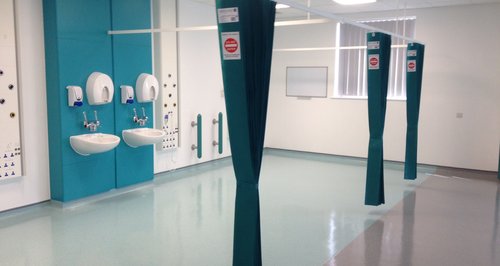 Another milestone in the £150m project to improve Lister Hospital in Stevenage has been reached as the Ward Block opens to patients.
The first floor is a specialist facility for cardiac patients suffering from conditions like a heart attack.
There's 38 beds on this floor, including four single sex rooms with ensuite toilet and shower facilities making them easier to use and giving patients more privacy.
The hospitals Cardiology Professor, Diana Gorog, has praised the new unit saying it has a light and airy atmosphere for patients to enjoy as well as being in a better location than the old unit:
"The previous facility was not only slightly old and out-dated but was in different locations.
"It was in a tower block a long way away from the cardiac catheterisation laboratory, a long way from the Emergency Department.
"Those lengthy transport journeys do add to the risk of the patient but also to the care and the dignity, its not nice when one is poorly, looking unwell, feeling dreadful in a hospital gown to be transported across the length of the hospital"
The ground floor of the new Ward Block is for acute medical problems like GP referrals.
These would previously have gone to A&E.
This unit has 24 patient beds and will open in 2 days time (10th July).
The opening of the Ward Block is just one part of a large project to improve Lister Hospital's infrastructure and facilities.
There's already a new multi-story car park, Maternity Unit and Cancer Centre as well as many other new and redeveloped buildings.
The new Accident and Emergency Department is expected to be complete by October this year.
The increase in facilities at Lister Hospital is linked to the changes in services that will be available at the QEII Hospital in Welwyn Garden City.
Services like A&E and maternity, will no longer be available at the QEII but there will be a new £30m facility providing outpatient, diagnostic, ante/post natal services and 24/7 Urgent Care centre.
This is expected to open next spring.