CCTV Issued As Bikes Nicked From Bletchley
Officers have today released CCTV images of two people they would like to speak to in connection with the theft which took place on Sunday, 30 November 2014.
PC Robin Lowth, investigating officer, said: "The victim, a 50 year-old man from Bletchley, secured his blue Apollo mountain bike in the dedicated cycle racks at the station. Sadly, the cycle was stolen from the racks shortly after 2pm.
Enquiries have been on-going since the theft took place to establish who took the bike. I am today able to release photographs of two people I would like to identify and speak to as I believe they will have key information about this incident.
Unfortunately, bicycles remain a desirable target for many thieves at train stations. However, BTP is cracking down on this type of crime and we have a dedicated team of officers specifically focused on tackling this issue.
Officers are carrying out a variety of initiatives to catch thieves in the act. They are also working closely with cycle and second-hand shops in the area and monitoring online auction and advertising sites to make it more difficult for thieves to sell on stolen property."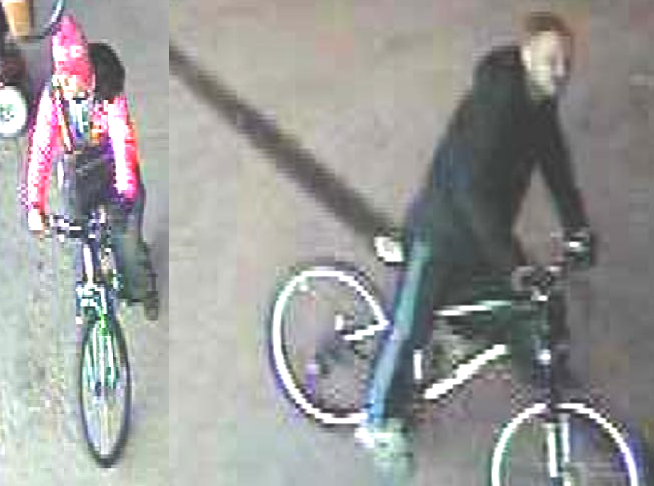 Anyone with information is asked to call British Transport Police on Freefone 0800 40 50 40 or text 61016.
Or call independent charity Crimestoppers anonymously on 0800 555 111.
In all calls, please quote incident reference MSUB/B1 of 24/12/14.
ADVICE FOR KEEPING YOUR BIKE SAFE AND SECURE
Bicycles are a popular target for thieves. Here are some simple tips to ensure your cycle remains secur
Always lock your bicycle whenever you leave it at a designated cycle rack area. Lock the frame and both wheels to a cycle stand
Consider using more than one lock to secure your bike and ensure that you use a recognised security standard lock. D-locks, extension cable or heavy chain locks are certified locking mechanisms. It is important to ensure that yours are up to date
Make the lock(s) and bike hard to manoeuvre when parked by ensuring little room between the stand and the bike
Do not allow your lock(s) to come into contact with the ground, where they are viewed as more vulnerable
Take a photograph of your bike and record your frame number and key details. This will be crucial in recovering your bike if it is stolen
Mark your frame with your postcode in two separate locations, one of which should be hidden. Attach a 'Coded Cycle' label to reduce the risk of making your bike a target for theft
Do not ride with valuables in open baskets or panniers

Register your bicycle at www.immobilise.com or www.bikeregister.com