Gun Amnesty In Northants
10 September 2014, 06:00
For two weeks in September police in Northamptonshire are asking people to hand in any guns or immitations.
The county last did a gun amnesty in 2003 where 525 weapons were recovered.
Neighbouring forces have also had a two week amnesty recently that was claimed to be a success.
Inspector Sarah Johnson told Heart she believes there are guns and imitation guns in the county.
She says the purpose of the amnesty isn't to arrest people and says that in most cases people with guns will be totally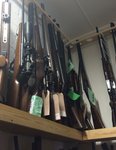 innocent:
"People do accidentally come into possession of an unlawfully held firearm, it maybe through the death of a relative, it may be found in a loft.
"Also air weapons are easily moved around and imitations can be purchased or even brought home from abroad.
"Rather than them being potentially being passed on to someone who might not have such good intent, lost or otherwise, we would like them to give them to us so we can destroy them"
Inspector Johnson says its important people wanting to surrender a firearm NOT to take it to the police station.
Instead they should call 101 and an officer will come to collect it.
The amnesty will run from Monday 15th September till Sunday 28th September.