Large Fire At Old Hospital Site In Northampton
7 August 2014, 10:42 | Updated: 7 August 2014, 15:32
Around 80 firefighters were called to a large fire at the former St Crispin's hospital site in Duston, Northampton last night after a large blaze broke out.
They received more than 70 999 calls, arriving at the scene in Berrywood Road at 22:54pm. 12 pumps and five special vehicles were sent to the scene.
Police and the ambulance service were also in attendance.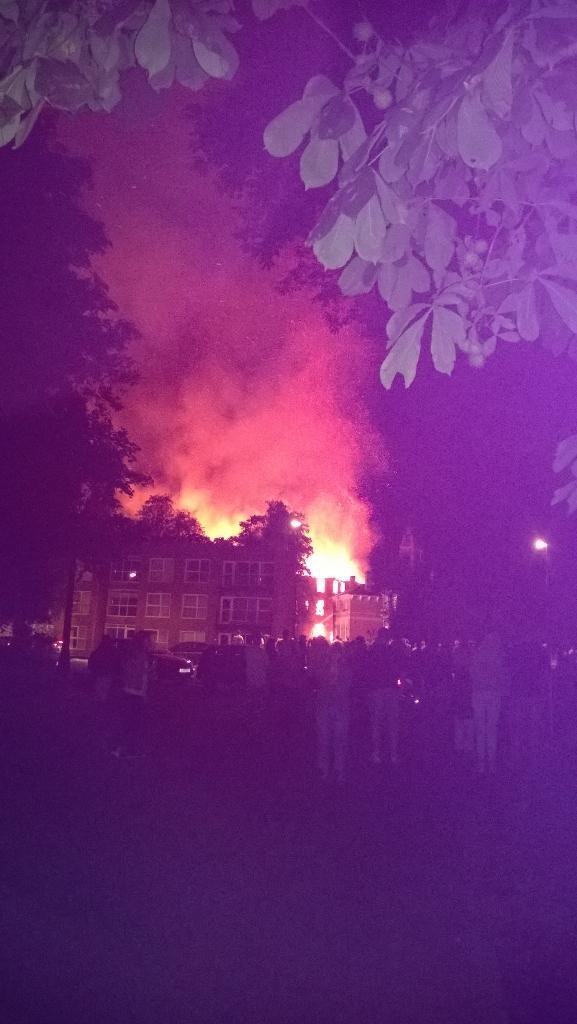 Northants Fire and Rescue say they have now scaled down resources and two crews are currently extinguishing the blaze.
Control Room Watch Manager Tom Stitt told Heart: "The smoke should be beginning to die down but our advice as always in these situations is keep your windows and doors closed.
"If you are driving and you do encounter smoke turn off your air conditioning and close your car intake."
Police are now starting a criminal investigation into what caused the fire. Another part of the building was also damaged in a fire earlier this week.
Cllr David Mackintosh, Leader of Northampton Borough Council, said: "I was very worried to hear about the fire at St Crispin's last night and it must have been a very disturbed night for the people living close by. I know that the Fire Service and Police will carry out a thorough investigation so that we can understand what happened.
"Northampton Borough Council is ready to help in any way we can and I know that the ward councillors have been up to the site this morning to see if there is anything they can do.
"I hope that the site will now be made secure to ensure that there are no further incidents. This is also a timely reminder to the developers that they need to get on with building on the site and the Borough Council will be contacting them to see what support they need."
Update - 3:30pm.
A Northamptonshire Police spokesperson said: "A multi-agency meeting has taken place at St Crispin's Hospital this morning following a large fire last night.
Emergency services were called just before 11pm to a fire at one of the buildings on the former hospital site.
Northamptonshire Fire and Rescue Service remain at the scene this afternoon, damping down the building.
A one-way system will remain in place at St Crispin's while this takes place, as fire hoses are laying along the main roads to allow water to get to the site.
Now the fire has been extinguished local people are safe to open doors and windows.
However, people are advised not to clear away any debris from the fire as it may contain asbestos.
The local authority emergency planning team is organising for specialist cleaners to visit the area and remove the debris as soon as possible.
The new play area at St Crispin's is closed while this work takes place, as debris has fallen in the area.
Northamptonshire Fire and Rescue Service were called to a small fire at the site on Sunday afternoon.
Following that incident the Arson Task Force made contact with the developers who own the site on Monday about making improvements to site security.
A multi-agency inspection of the site has taken place this morning, although no one has been able to go into the building which was alight as it is still too hot to enter.
Investigations into the cause of the fire will only be able to take place once access to the site is possible.
However, police are conducting an investigation into the circumstances of how the fire started."