Luton Men Jailed After Violent Attack On Homeless Man
Two Luton "thugs" recorded a "chilling" video as they mercilessly beat a homeless man who later died in hospital.
At Luton Crown Court, the jury heard how the pair had accidentally filmed the attack - after one of them used their mobile phone's torch facility, to illuminate the scene.
Today (Friday 16th January) the court heard Carl Stockwell, 26 and Daniel McRedmond, 19, had no idea they were filming their attack on the 14th of June 2014 in Luton Town Centre - in an area close to the car-park by the ABC cinema.
The 90 second clip showed the pair stamping on the head and body of Polish homeless man, Zbignew Pawelec.
At one point he tried to cling to the leg of one of his attackers to protect himself and could be heard pleading with the men to stop.
Hours after the attack Mr Pawelec (pictured above), who was 51, was found collapsed in a car park with head injuries and three days later he died in hospital.
But because it was later discovered the victim had suffered other injuries following the assault by the pair, it could not be proved that their attack had caused his death.
As a result Stockwell, of Dallow Road, Luton and McRedmond of Shirley Road in the town, both pleading guilty to a charge of attempting to inflict grievous bodily harm with intent.
Mr Pawelec was found to have head injuries and, after being taken to hospital, was transferred to Addenbrooke Hospital's critical care unit in Cambridge, where he died on June 17 after it was decided to switch off his life support machine.
That same day detectives back in Luton received information that led to the arrest of Stockwell.
His mobile phone was seized and when the contents were examined, the footage was discovered.
McRedmond was arrested in Great Yarmouth and brought back to Bedfordshire by detectives.
Both had been in the area of the cinema the night before Mr Pawelec was discovered in the car park.
They had gone into the building looking for some alcohol they had left there and when they couldn't find it, Stockwell had used the torch facility on his phone to illuminate the interior of the building.
It was then that they came across Mr Pawelec sleeping on a mattress under a duvet, said the prosecutor.
Judge Richard Foster hearing the case was told the pair thought he had taken their alcohol and could be heard on the mobile phone footage as they discussed attacking Mr Pawelec.
Stockwell hurled a piece of wood at the sleeping man and when he sat up, both kicked him.
Miss Mealing-McLeod, referring to the footage, said "You can clearly see both defendants kicking the victim and stamping on his head. You can hear him say 'please' and 'no."
She went on "Both stamped on the victim and he tried to grab a leg to protect himself."
The court heard the pair then ran out of the building and could be heard boasting about what they had just done.
After his death a post mortem revealed Mr Pawelec had died from severe head injuries.
The court was told Stockwell had a long list of previous convictions going back to 2005 when he was a juvenile.
Tim Clark for Stockwell said "He is shocked and ashamed by what he did." Mr Jonathan Goodman for McRedmond said he was a young man who was "easily led."
Judge Foster Jailed Stockwell for eight years and sentenced McRedmond to nine years in custody (pictured below)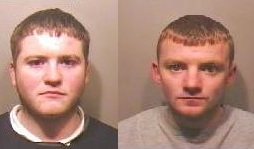 The judge described the 90 seconds of footage from Stockwell's mobile phone as "chilling" and told the pair he had watched it before coming into court.