MK Dons v Manchester United Ticket Details
15 August 2014, 13:06 | Updated: 15 August 2014, 13:11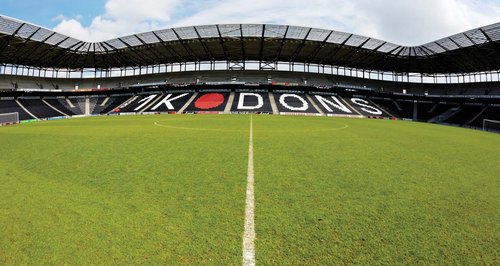 MK Dons have confirmed the ticket details for their Capital One Cup fixture against Manchester United at stadium:mk.
The game will take place at 8pm on Tuesday 26th August.
Season ticket holders and current members are being given priority access to booking tickets when they go on sale from 2pm today.
They are available from the Box Office at stadium:mk and kiosk at thecentre:mk.
Tickets will only be sold to season ticket holders and current members until 8pm on Monday 18th.

Each season ticket holder will be able to purchase their match ticket at a discounted price, as well as buy a maximum of three additional tickets at the non-season ticket holder price, while members are limited to one additional ticket at the non-season ticket holder price.

Season ticket holders will only be able pick up their own Man United tickets, those allocated to other season ticket holders/current members that live in their household or for others on production of that season ticket holders' card.

Wheelchair and disabled supporters who are season ticket holders should call the Disability Liaison Officer on 01908 622901 to purchase their seats.

Supporters purchasing tickets for the home fixtures with Coventry City (Saturday 23rd August) and/or Crawley Town (Saturday 30th August) and who are pre registered on the MK Dons ticket database can buy an additional ticket for the Man United fixture at the non-season ticket holder price from 2pm on Friday.
This facility is only available to personal callers to stadiummk and thecentre:mk. There will no refunds on Coventry or Crawley tickets.

Remaining tickets will go on sale to the public at 8am on Tuesday 19th.
The club will release further details in future.

This match has also been designated all-ticket, meaning no tickets will be available to buy on the day of the game.

The Club will only sell home tickets in the lower tier before moving to the upper tier if and when required.

Tickets are priced as follows:

Season ticket holders – from 2pm on Friday 15th

Family Area, Standard Corner, Cowshed, East Wing
Adults: £20
Over 65s: £15
Under 18s: £6

East Premium
Adults: £23
Over 65s: £18
Under 18s: £9

clubRed
Adults: £30
Over 65s: £25
Under 18s: £16

General sale – from 9am on Tuesday 19th

Family Area, Standard Corner, Cowshed, East Wing
Adults: £25
Over 65s: £18
Under 18s: £6

East Premium
Adults: £28
Over 65s: £21
Under 18s: £9

clubRed
Adults: £35
Over-65s: £28
Under-18s: £16