New Search For Missing Sonica
18 August 2014, 09:00 | Updated: 18 August 2014, 13:46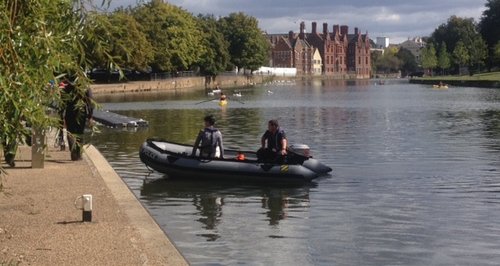 Police divers will be searching the river in Bedford today for a woman who went missing on Boxing Day 2012.
35 year-old Sonica Hans, has not been seen since that afternoon when she left the flat she and her sister Manisha shared in Priory Court in the town.

Sonica was recorded on CCTV buying some vodka and food at Tesco Metro, Midland Road earlier that morning.
She returned home, but at around 1.30pm left with a friend, telling Manisha that she was going to town and asked if she wanted anything brought back. Sonica said she would be straight back. The last sighting was on CCTV near the Swan Hotel, close to the river, at about 2pm.


Bedfordshire police say Indian-born Sonica, who worked for a McDonalds restaurant, hadn't been missing before and her family have no idea where she is or why she has never made contact with anyone.

At the time, extensive searches along the river bank, police enquiries and financial enquiries drew a blank.

Detective Chief Inspector Juliette Everett said:
"Sonica's behaviour in just disappearing is totally out of character for her. She was a reliable employee at McDonalds and no-one has any concrete reason why she would disappear, or harm herself, or be harmed by someone else.

Given the last potential sighting of her near The Swan, it's possible that she may have fallen into the water, but we have to keep an open mind. We're re-visiting the case because things do change all the time; new advances in technology, new information or some tiny detail we may have missed that can be revealed with a fresh look at what we know.

As part of the renewed work on the case, police dive teams have been brought in to search the area from Prebend Street back towards The Slipe bridge today eleasing the CCTV footage of Sonica at the shop and the woman at The Swan to see if there is anyone with information about Sonica who hasn't yet come forward to the police."

Sonica was about 5ft 3ins tall, with very long black hair which at the time of her disappearance was dyed dark brown. She was last seen in red trousers/leggings, black jumper and wearing a dark blue jacket.

DCI Everett added:
"If you have information about Sonica, however small or insignificant you think it is, please call us. Don't leave it to someone else or assume it's not important.

It is possible that Sonica is perfectly well but decided to leave her life in Bedford behind, preferring not to tell people where she is. We can respect that decision and those details can be kept confidential to the police. So if you know where she is, or Sonica herself sees our appeal, please just contact us."