Prince William Joins East Anglian Air Ambulance
7 August 2014, 13:00 | Updated: 7 August 2014, 15:24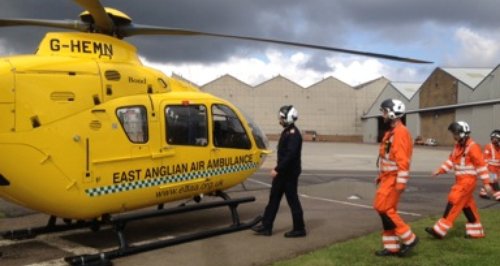 Kensington Palace have confirmed the Duke of Cambridge is to become a pilot at the air ambulance service for Norfolk, Suffolk, Cambridgeshire and Bedfordshire.
William is already a trained RAF and Search and Rescue pilot but from September he will begin training to fly the civilian aircraft used by the East Anglian Air Ambulance.
He will then undergo training to be a HEMS (Helicopter Emergency Medical Service) pilot, with the intention of taking to the skies of the East of England in Spring 2015.
Patrick Peal is Chief Executive of the EAAA and told Heart:
"It's really exciting, we couldn't be happier, it's a great honour and we're just delighted about this and we very much look forward to him joining us.
"Anything we can do to raise the profile of the charity is really important and we're just delighted that the Duke has decided to fly with East Anglian Air Ambulance."
The Prince will fly the charities new aircraft, an Airbus EC145T2, which will be based at Cambridge Airport.
This helicopter is able to fly both day and night.
Gerry Hermer is the charities aviation expert and like William, he used to be in the RAF.
He told Heart it's not that unusual for a former RAF pilot to go on to join an air ambulance service:
"It is very similar really because you don't know where you're going, you don't know where you're going to land, that's what we did in the Air Force so this is a natural transition doing the same thing."
It's expected that William will work the shift pattern of 4 days on, 4 days off.
A typical shift will involve him arriving at Cambridge Airport at 7am and inspecting the aircraft for any dirt or damage.
He will then hold a briefing with the crew, a doctor and paramedic, about the weather forecast and any impact it might have on flying.
He will then be on standby to respond to calls.
Gerry Hermer told Heart what happens once he's in the air responding to an emergency:
"He will be telling air traffic control where he's going, he'll be getting some navigation assistance form the crew, and when they approach the scene they will have a discussion about how and where they're going to land."
Once at the scene, the pilot has the option to stay with the aircraft but can also assist the medial team, such as carrying equipment.