Tributes Paid To Northampton Teenager
8 August 2014, 10:23 | Updated: 8 August 2014, 17:05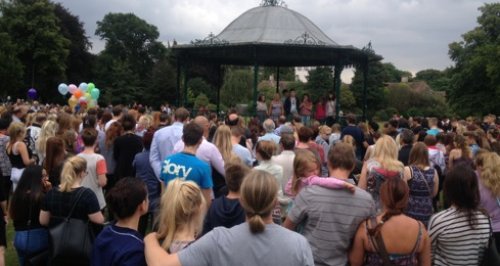 The family and friends of teenager Emmerson Thompson, who was found dead in Northampton, have paid tribute to him.
The 15 year old was reported missing from his home in Stimpson Avenue last Friday afternoon (1 Aug).
Following searches, his body was found by members of the public in Weston Mill just before 2pm on Monday (4 Aug).
His family have released the following statement:

"Emmerson would have been sixteen in a few weeks and his family were organising a special event for is birthday. He attended Weston Favell Academy, recently completed his GCSEs and had enrolled in the sixth form. He was a very studious and conscientious pupil. He had a passion for wildlife and kept a number of exotic pets. He was a keen swimmer and an accomplished guitar player. He enjoyed the countryside and walking holidays in places such as the Lake District.

"One of Emmerson's closest friends described him as kind and caring with not a bad bone in his body. He was well liked by all those that knew him. Emmerson's family greatly appreciate all the support and messages of sympathy that they have received during this difficult time. He will be dearly missed by his loving family."
Meanwhile around 250 people gathered in Abingdon Park this afternoon (8th August) with flowers, balloons and candles.
Speeches from Emmerson's friends were read from the bandstand.
Sinead Tompkins told Heart she'd know Emmerson from Primary School:
"When I first found out I broke down, it really shocked me. Now, after these few days, it has kind of reversed and I feel as though I don't believe it"
A post mortem examination has taken place following Emmerson's death and it has been established that he died as a result of a ligature around the neck.
There are no suspicious circumstances surrounding his death and a report is being prepared for the coroner.