Folkestone: 55 Year Old Guilty Of Murdering Homeless Man
26 June 2014, 14:14 | Updated: 26 June 2014, 14:19
A Folkestone man has been found guilty of beating a homeless person to death in a jealous rage. This is the statement from Kent Police


Brian Sharp, 55, of Manor Road, Folkestone, was found guilty of murdering Tim Clayton by a jury at Canterbury Crown Court on Thursday 26 June.

During the two-week trial, the court heard how Sharp had become jealous about 45-year-old victim's friendship with his on-off girlfriend.

On Friday 8 November, Sharp headed out to look for Mr Clayton and visited the rear of Europa House in Pound Way, Folkestone, just before 9.30pm. But the victim, although visiting the area only half an hour before, had left the scene and Sharp left the area.

CCTV from Pound Way revealed to detectives that just before 1am on Saturday 9 November, Mr Clayton returned to the rear of Europa House to settle down for the night.

But, Sharp returned to look for him, accompanied by his family dog – a Staffordshire bull terrier - and just after 3.35am, Sharp attacked Mr Clayton as he slept.

He dragged the victim across the floor out into the open whilst he was still in his sleeping bag and launched a sustained attack, punching and kicking him as he lay defenceless.

The attack lasted for more than 12 minutes before Sharp finally walked away with the dog and leaving Mr Clayton sitting on the floor in a daze.

CCTV showed victim eventually got up to check himself in the window of a nearby parked car before returning undercover at the rear of Europa House to go back to sleep.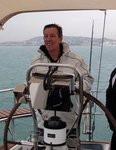 But Mr Clayton never regained consciousness. He was found in the morning by bank staff arriving for work at 8.20am. They noticed extensive injuries to his face and to the back of his head and alerted the emergency services.

Ambulance staff were unable to get a response from the victim and he was airlifted to the Royal Hospital in London. When he arrived, hospital staff quickly ascertained he had sustained significant non survivable head injuries and Mr Clayton died in the afternoon of Sunday 10 November.

Investigations by the Kent and Essex Serious Crime Directorate quickly established Mr Clayton had a friendship with Sharp's girlfriend and Sharp was arrested on 10 November.

Whilst in custody, but before he knew Mr Clayton had passed away, Sharp admitted to officers he had hit the victim a couple of times.

A grey long-sleeved jacket belonging to Sharp was seized by officers and forensic analysis revealed a sample of blood near the right cuff matched the DNA profile of Mr Clayton.

Sharp provided no comment in interview when questioned about the attack but on Thursday 26 June he was found guilty of murder.

Following the verdict, John and Anna Clayton, Tim's parents, said: 'On 10 November 2013, our precious son Tim was taken from us and we are left with a great void in our lives.

'His children have lost a dear and loving father and we now have to start to live the rest of our lives with an important member of the family missing.'

Senior investigating officer Detective Chief Inspector Paul Fotheringham said: 'This was a violent, callous and premeditated attack on a vulnerable man in the middle of the night.

'Sharp became consumed by jealously after learning of his girlfriend's friendship with Mr Clayton and he went out that night to hurt him. He visited the scene looking for him earlier on in the night but he was unsuccessful. He then came back and punched and kicked the victim as he slept leaving him with horrendous injuries. Mr Clayton didn't have a chance.

'I'm pleased the jury looked at all the evidence obtained by my officers and recognised Sharp's guilt. I'd like to pay tribute to Mr Clayton's family after what has been a very difficult time for them and to place on record my thanks to those bank staff who discovered and tried to help Mr Clayton before the emergency services arrived.'

Sharp will be sentenced on Wednesday 2 July.