Dover: "Potentially Lethal" Hot Water Bottles Seized
20 January 2015, 13:11 | Updated: 20 January 2015, 13:21
More than 1,200 hot water bottles described as "potentially lethal" have been seized by Kent County Council Trading Standards officers.
The furry dog hot water bottles, which officials say were clearly intended for use by children, were destroyed after arriving on a lorry through Dover.
An electrical safety expert called in by KCC Trading Standards examined the hot water bottles and found numerous faults.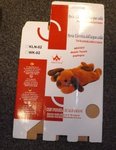 Officials say details on the packing of the bottles were obvious signs that the items were likely to be unsafe. The packaging claimed the bottles had a 16-litre capacity, which is up to 10 times the capacity of the average electric kettle. It also said they had a 60-minute timer and three cooking functions. They have to be plugged into the mains to heat the water.
In addition, they said there is a risk that the water could boil in the bag which would then either burst or leak out; they are CE marked but should not be; and the instructions are inadequate.
KCC Trading Standards manager Mark Rolfe said the 1,250 hot water bottles were taken from a lorry after they were presented at Dover for clearance into the EU.
"They originated from China and carried a delivery address in Hamburg, but we can't say with any certainty where they would have ended up," he said.
"Working with our partners at the UK Border Force, this is part of our ongoing work at the borders to protect consumers in Kent, the UK and they wider EU."