Howlett; Tiger And Keeper Are Friends
An incredible bond has been formed with a hand raised female tiger at Howletts Wild Animal Park; she's best friends with her dedicated keepers


Damian Aspinall, Chairman of conservation charity The Aspinall Foundation and the keepers he employs have formed a remarkable bond with a female hand raised tiger at Howletts Wild Animal Park, near Canterbury in Kent.

The Amur tiger, named Arina, is still described as a cub at 11 months old, although she is already the size of a large dog. Visitors to the wild animal park are amazed as they watch Head Keeper, Ben Warren and his team, frolicking happily with her in her enclosure.

However, there is a serious side to the story and this 'play' is part of enrichment, necessary to Arina's development.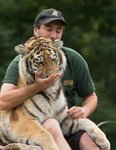 Damian Aspinall said: "Sadly, Arina and her brother were left by their mother at birth. Her mother showed no interest in either of the cubs, if we hadn't intervened they would have both died. We made the decision to hand raise the pair, this meant that we became their parents. Feeding every two hours, night and day and interacting closely with them to develop their skills"

The cubs made their public debut in March this year but soon after, Arina?s brother, Kazimir, fell ill and succumbed to a fatal epileptic fit. So that Arina did not pine, the keepers stepped up their interaction with her, becoming not only her parents but her siblings too.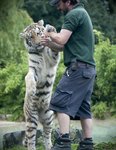 Ben Warren, Head of Carnivore Section said: "This interaction is vital to Arina's health and development she looks to us for everything she would look to her parents and siblings for and It will also help us develop a greater insight into her behaviour. Arina has a deformed leg and this close contact will help us treat her, if necessary, in the future without the risk of sedation."