Kent: Newsagent Robbery Pair Jailed
21 November 2013, 17:28 | Updated: 21 November 2013, 18:19
Two armed robbers who wore matching outfits and threatened newsagents with metal baseball bats in a string of raids across Kent have been jailed for a total of 23 years and nine months.


Duncan Snape and Robert Powsey stole more than £36,000 during a 15-month robbing spree, targeting nine convenience stores across the Medway Towns, Gravesend, Longfield, Aylesford and Ashford.

Dressed in balaclavas and wearing either boiler suits or tracksuits, the pair carried out the raids in the early hours of the morning, threatening frightened shop staff with baseball bats, sledgehammers and pick axes, before tying them up and grabbing handfuls of cash from the safe. In an attempt to throw police off the scent, they also used fake northern, southern and Irish accents when carrying out the robberies.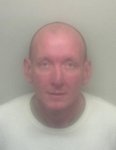 Snape, 41, of Chapel Yard in London was convicted by a jury of conspiracy to rob between 1 February 2012 and 16 May 2013. His partner in crime, Powsey, 42, of Peacock Rise in Chatham, had earlier pleaded guilty to the same charges.

Today at Maidstone Crown Court, the duo were jailed for 14 years and nine years and nine months respectively.

The reign of terror began on 5 March when they hit McColl?s newsagents in Admirals Walk, Lordswood. This time one of them carried a black and silver axe and the other a sledgehammer. The frightened shop assistant was cable tied and the two robbers got away with £6,500.

They hit the same shop on 29 April 2012 and this time got away with £3,400 after tying up their victim. Snape, however, was caught on CCTV partially lifting his balaclava on exiting the rear of the store and detectives were later able to match custody photos of him to the CCTV image using facial recognition software. The mistake proved costly and would later allow detectives to link them to nine robberies across the county and one attempted robbery.

The failed attempt came on 3 September 2012 when they tried to rob the McColl's store in Parkwood Green, Gillingham. However, when they tried to enter the rear of the shop a newsagent managed to deny them access before calling police.

They struck for a fourth time on 26 September 2012 when a female staff member and delivery driver were threatened and tied up at McColl's newsagents in Orion Road, Rochester. The pair got away with £7,498.

Two people were tied up and £1,600 stolen on 18 December 2012 at McColl?s in The Row, New Ash Green, Longfield.

On 11 February this year they were at it again. This time McColl's at Singleton Post Office in Ashford and £6,362 was taken. This was the only raid in which the shop staff were not tied up.

McColl's on Leander Drive in Gravesend was hit for the first time on 3 March, when one lone female worker was tied up and the pair pocketed £2,932.

The penultimate robbery took place on 11 March at McColl?s in Martin Square, Aylesford, when a male member of staff was tied up and £4,642 stolen before striking for the final time at the Leander Drive shop in Gravesend on 31 March and stole £4,912 out of the safe.

Detectives from the Kent and Essex Serious Crime Directorate piecing together the series of robberies took a call on 13 May from a staff member at McColl?s in Admirals Walk, Chatham, that came at a crucial stage in the investigation.

A man matching Snape?s description entered the shop during the day and was recognised by the shop assistant from a CCTV image. She called police and two days later a marked police car patrolling the area stopped Snape and Powsey in Lords Wood Lane, Chatham. A search of their car found two metal baseball bats and they were both arrested on suspicion of robbery.

Further searches at their home addresses revealed clothing and bags linked to the robberies and pieces of paper with postcodes of stores to target.

They were both charged with the offences on 16 May.

Investigating officer, Detective Constable Jon Saxby of the Kent and Essex Serious Crime Directorate, said: "This was a lengthy investigation which involved piecing together lots of evidence from nine robberies and an attempted robbery over 15 months.

"The use of technology allowed us to put Snape and Powsey in the area of where the robberies were carried out and the evidence of text messages sent between the pair, often in the early hours of the morning, proved to be an important part of the investigation. We were also able to use face recognition software that helped us identify Snape when he removed his balaclava after leaving a shop that he had just robbed.

"Their 'party pack' - as they liked to call it - was found in Powsey's garage, which included all the items they had previously used to disguise their identity and rob stores across Kent. They would often reconnaissance the store and area before carrying out the raid and it was in doing this on 13 May at the shop in Chatham that Snape was identified.

"I've no doubt that had we not caught them, arrested them and then put them before the courts, they would have continued threatening innocent shop staff and stealing thousands of pounds.

"While Powsey admitted his guilt, Snape showed no remorse for his victims and even took to the stand and lied about his actions in an attempt to con the jury. Thankfully the wealth of evidence against him ensured they returned a speedy guilty verdict.

"He also put the victims through the ordeal of having to give evidence at a trial and relive the whole experience again. I, on behalf of Kent Police, would like to praise them for displaying the courage they did during the robberies and then to give evidence later in court.

"People should not be afraid of going to work and carrying out their duties for fear of this type of crime and they can rest easier knowing that these two will be spending a significant time behind bars.

"Hopefully they will use their time wisely and perhaps reflect on the pain and fear they caused to their victims when carrying out this series of robberies."