Kent's Haiti Heroes Open Training Centre
Specialist Firefighters who've just returned from Haiti have taken part in the opening of a brand new training centre in Maidstone.
The purpose-built centre's cost £1.4 million and two years to build.
It's now the full-time home to Kent's Urban Search and Rescue firefighters - some of whom recently flew to Haiti to help the international rescue effort.
The USAR team is one of 20 across the UK used to respond to major incidents. It's also used locally to deal with life-threatening incidents including car crashes and collapsed buildings.
The new site on Loose Road will make it easier for the crews to train and practice using lots of very expensive specialist equipment such as listening devices, hoists and drills.
Bryan Cope, Kent and Medway Fire and Rescue Authority Chairman, said:
"The development of the building is a positive step both for the people of Kent and indeed on a regional and national basis."
The role of the fire and rescue service is constantly evolving and the new facility puts KFRS in the best position to provide an effective response to the many challenges our firefighters may face wherever they may be.

"I am extremely grateful to the residents of Loose who had to bear with us during the building works, which has now given the USAR team a modern and high quality base to respond from. I wish the team every success in their new 'home' and hope they benefit hugely from this new facility."

Charlie Hendry Chief Fire Officer said:
"The tragic events witnessed abroad in Haiti and Indonesia recently and the devastation caused by flooding in parts of Cumbria, together with terrorist attacks in New York and London, have provided learning opportunities for the fire and rescue services across the globe. Today we are able to demonstrate the capability we now have in the UK fire and rescue service to deal with these major incidents.

"I think the public should be assured that in the event of any man made or natural disaster, KFRS is ready to respond, 24 hours a day, seven days a week with highly trained professionals using state of the art equipment."

This is the first building to be commissioned by Kent and Medway Fire and Rescue Authority since Ashford Fire Station was built over 15 years ago.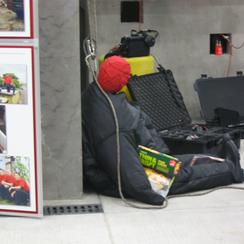 A dummy used in training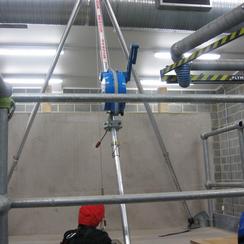 A hoist used to lower firefighters into collapsed buildings