Whitstable; Charles and Camilla Visit
29 July 2013, 15:38 | Updated: 29 July 2013, 15:43
The Duke and Duchess of Cornwall have been in Whitstable this morning.
They visited the town's Oyster Fair, played with a Samba band, were presented with badges by the Sea Scouts; and of course, spent a lot of time talking about Prince George, the Royal Baby.
The couple also visited the lifeboat station before going on to Chatham
See our pictures and video
Prince Charles has given his new grandson's name the royal seal of approval, describing George as a "very good name'' but adding that he'll be called "Georgie in no time''.

Charles and the Duchess of Cornwall were congratulated on the new arrival by throngs of wellwishers at the Whitstable Oyster Festival in Kent - a week on from the eagerly anticipated royal birth.

The couple were showered with gifts for Prince George including a tiny lemon t-shirt which Charles can pass on to the baby as a souvenir from his trip to the festival.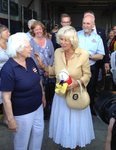 Shona Corcoran, 38, from Whitstable, said she and her three-year-old daughter Hannah felt that they should bring a gift for the baby prince and the perfect opportunity presented itself today as they passed it on to Charles.

"It's one of the Whitstable Oyster Festival t-shirts and we just wanted to give something to George.

"He said, 'Oh, that's fantastic, thank you. I'm sure he'll like to wear that','' she said.

Charles met a woman who also has a grandchild called George.

Margaret Quinney, 67, said: "He was talking about the grandchildren.

"He said there are lots of grandparents around.''

It was after Charles met Mrs Quinney and her daughter Jo that he said: "George - a very good name.''

Mrs Quinney, grandmother to six-month-old George, said they "just had a feeling'' the Duke and Duchess of Cambridge would call their son George.

"We just had a feeling. We knew it was going to be George,'' she said.

Her daughter Jo said she thinks it will now be a "very popular'' name for baby boys.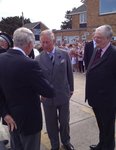 Sonia Rule, 38, whose partner works for the Whitstable RNLI Lifeboats crew said she heard Charles joke that his grandson will ``be known as Georgie in no time''.

Charles and Camilla met with local fishermen during their visit to the week-long festival which dates back to Norman times.

While Charles tried two oysters, his wife declined, saying: "I love them but I ate a bad one once.''

Charles joked with photographers who were keen to get a snap of him eating the local delicacy, having missed him eat his first.

"I've just tried one!'' He said.

Adding: "Now are you sure you're going to get this?''

Natalie Adams, 38, who was among a group of mothers and babies enjoying the sunshine at the harbour, said Charles also joked with her about having eaten the two oysters.

"He said 'what I do for Whitstable. They are an acquired taste','' she said.

Ms Adams, a member of the yacht club, said: "It's a lovely community in Whitstable.

"Friends all supporting friends.''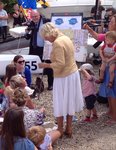 At the beginning of their visit, the couple joined local community samba band Samba Pelo Mar on stage where they helped drum to the beat of a carnival-themed tune.

As Charles and Camilla approached their car to leave, crowds called out: "Thanks for coming!''

Whitstable is famous for its native oyster. Popular since Roman times, they are farmed seasonally, and are only available between May and August.

The nutrient-rich waters that flow from the Thames Estuary, mixed with salt water from the North Sea, are said to provide the perfect growing environment for the algae which form the oysters' diet.

The couple also made a visit to the Chatham Historic Dockyard where they were presented with a garden swing "made to last'' for George.

Presenting them with the gift, Admiral Sir Ian Garnett said: "We of course share your pride in the birth of your first grandchild.''

The swing was made in the dockyard with timber salvaged from HMS Gannet and rope made on the site.

Sir Ian said: "Like everything in the dockyard it was made to last.''

Speaking after the royal couple's departure, he added: "We were really pleased and terribly proud that after what must have been a terribly busy and hot summer season that he came down to see us.''

Charles and Camilla carried out most of their engagement at the dockyard separately, with Camilla meeting a group of children dressed as pirates.

Dancing and singing, the children played underneath a banner which said: "We hope that Prince George will visit us soon!''

Camilla was also shown around an exhibition about Antarctica.

Before ending their day of engagements at Chatham Historic Dockyard, the couple visited the Prince's Trust Centre in the town.

They met unemployed young people who are receiving support through the youth charity's Fairbridge programme.

The programme provides help for disadvantaged young people by giving them skills and the confidence to change their lives for the better.