We Care 24/7
The challenge of juggling work, family life and social commitments is something that many of us can relate to. But imagine trying to do all of this when you are caring for a very poorly child 24 hours a day, 7 days a week.
The endless hospital visits and complex medication routines, combined with equipment checks and adjustments throughout the night can leave parents feeling desperate and completely exhausted.
There are an estimated 49,000 children and young people in the UK living with a life-threatening or life-limiting condition. Local children's hospices are there to support these families every step of the way. They offer essential short breaks for families in the hospice and day care facilities to give parents a much needed rest. They also provide additional support when required to help families enjoy the activities that many of us can take for granted, like shopping, going out and spending time with friends.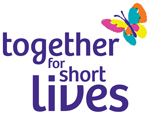 Have a Heart is proud to be supporting Together for Short Lives, the leading charity for the UK's 49 children's hospice services. Children's hospices provide support and care to children & young people who are suffering from a life-threatening or life-limiting illness. Children like Emily;
Emily was diagnosed with cerebral palsy after she stopped breathing shortly after birth. Her complex condition means she has had countless hospital stays and operations.
Since the early days of her diagnosis and some life-saving bowel surgery, Emily's health has been more stable and she spends most of her time smiling away from her buggy, enchanting everyone she meets.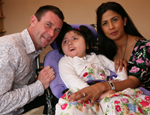 One place her family can rely on for support is Claire House Children's Hospice. Emily has been enjoying breaks at the hospice for around eight years and as well as supporting her parents; the hospice also supports her brothers Jacob and Sammy. They go to events and activities where they meet other families and receive counselling.
Emily's dad says: "Coming to Claire House is such a relief and for a couple of days, we can just enjoy being a family and forget about the other pressures that surround us. It's also wonderful to see Emily so happy and content and smiling away when she comes to the hospice."
Have a Heart is raising money to give families like Emily's a break by providing specialist nursing care and support to seriously ill children and their families whenever they need it - 24 hours a day, 365 days a year.