Alice Police Travel To Latvia
23 September 2014, 18:13 | Updated: 23 September 2014, 18:16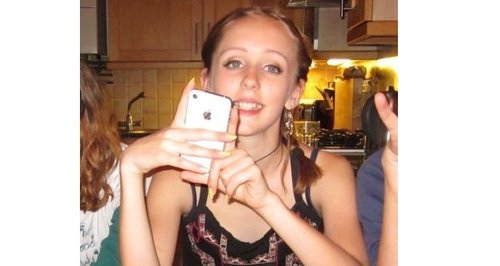 Met Police detectives have travelled to Latvia in the hunt for missing teenager Alice Gross and a convicted murderer who is the prime suspect in her disappearance.
Scotland Yard are also carrying out a review of the early stages of its investigation "as quickly as possible" after coming under fire for delays in asking for Latvian assistance in finding convicted killer Arnis Zalkalns.

Alice (pictured) was caught on CCTV on 28 August 2014 walking alongside the Grand Union Canal in west London back towards her home in Hanwell and has not been seen since.

Zalkalns, who served seven years in prison after he was convicted of bludgeoning and stabbing his wife Rudite Zalkalns to death in his native country, passed the same spot 15 minutes later.

He vanished on 3 September, six days after Alice was last seen and after murder detectives took over the investigation into her disappearance.

Police were due to hold a reconstruction of the teenager walking along the path on Thursday 25 September, when she will have been missing for a month, with a volunteer cadet playing Alice.

Specialist teams have continued to search a river near where the missing schoolgirl was last seen as a knife found in the water underwent forensic analysis.

Hundreds of officers have been involved in the hunt for the 14-year-old and attention was focused on the River Brent and its banks near Ealing Hospital in west London.

In the biggest use of search resources since the July 7 bombings, investigators have so far searched 25sq km of open land, 5.5km of canals and rivers, and more than 30 properties including houses, derelict buildings, outbuildings and empty houses.

Scotland Yard have insisted they have no evidence to suggest that Alice, who suffers from anorexia, has come to harm.

Zalkalns, who works at a building site in Isleworth, west London, is thought to have come to the UK in 2007, but authorities here apparently had no record of his murder conviction.

He was arrested on suspicion of indecently assaulting a 14-year-old girl in the UK in 2009, but no further action was taken. The general labourer is white, 5ft 10ins and stocky, with dark brown hair that he normally wears tied in a pony tail.

A reward of up to £20,000 is being offered for anyone who has information that leads detectives to find Alice.

Police have said that Zalkalns "potentially poses a risk to the public" and have asked anyone who sees him not to approach him and to dial 999.