Ammonia Attacker Jailed
28 August 2014, 19:25 | Updated: 29 August 2014, 19:04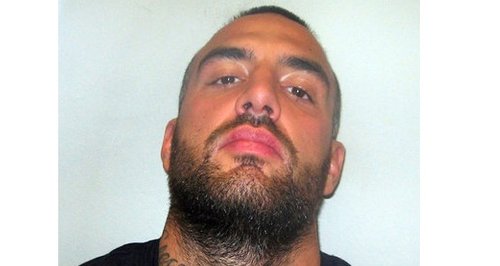 A man who splashed ammonia over six strangers outside a nightclub in Vauxhall has been jailed for just over two years.
Jonathan Lynn, 29, (pictured) threw the contents of a plastic bottle over a group of young gay friends on 8 June 2014.

He pleaded guilty at Inner London Crown Court to causing the three men actual bodily harm outside the Lightbox nightclub and possessing an offensive weapon, namely a noxious fluid.

He also admitted splashing the liquid on a fourth man in the group and a female passer-by before he assaulted another man, who was sprayed with the fluid after Lynn stepped on his foot as he waited in a nightclub queue.

Some of the victims were left with ulcers in their eyes and mouths as well as "significant" pyschological problems, the court heard.

Sentencing Lynn to two years and four months, Recorder David Etherington QC said: "I make this clear, this was a vile, violent, cowardly and disgraceful attack by you, but I do not find it was motivated by dislike or hate of people of homosexual orientation.

"You wrecked a number of people's lives.

"You decided to go out armed with a plastic bottle containing an unpleasant and, in my view, potentially dangerous noxious fluid."

The court heard Lynn threw the liquid over male model Pariche Frith after the pair were involved in an argument outside Lightbox shortly before 5am.

Lynn had been standing with two women he did not know and claimed to Mr Frith that one of them was his "bird", the hearing was told.

After Mr Frith stated he was gay, the pair exchanged words when the victim claimed he "could have the women anyway", which he later admitted was "arrogant", Judge Etherington said.

As Mr Frith walked away, Lynn called him back and splashed him with the contents of the bottle along with his three friends.

A female passer-by, who witnessed the attack and described how two of the men were "doused" with liquid, was also hit in her eye with the fluid.

Judge Etherington said Lynn's attack later on another man who was sprayed with the fluid in the nightclub queue was proof the defendant was "spoiling for trouble that night".

The court heard that following the incident Mr Frith suffered eye ulcers and had skin removed from his tongue which made it difficult to eat.

"He didn't know if he was going to die or end up with no face," the judge said.

The victim had also been prescribed antidepressants following the attack, the court heard.

One of the victims did not seek medical treatment as he tried unsuccessfully to keep his sexuality a secret from his family, who he now feels have "disowned him", the judge said.

Judge Etherington said he had ruled that the attack was not homophobic following statements given by the two women standing with Lynn outside Lightbox.

The women, who did not know Lynn, confirmed he had told Mr Frith he "didn't care he was gay" during their argument, the judge said.

"It doesn't excuse for a minute anything you did," he added.

Judge Etherington said he viewed with "deep scepticism" Lynn's claim that he carried the liquid for his self-defence.

"I think you took it out to use it if anyone ... got in your face," he said.

The court heard the contents of the bottle were not recovered and therefore could not be analysed.

But Scotland Yard said the liquid used in the attacks was believed to be ammonia.

Following the sentencing, Detective Chief Inspector William White said: "Lynn has never given an explanation as to why he did what he did that night or why he would go out armed with a corrosive liquid."

Lynn, dressed in a light T-shirt, with a beard and shaved head, had previously pleaded guilty to four counts of causing actual bodily harm, two counts of common assault and one count of possessing an offensive weapon.

He committed the attack while out on licence after being jailed for seven years in 2009 for possession of cocaine with intent to supply, the court heard.

He had also been sent to a youth offenders institute for 30 months for robbery in 2005.

The court heard Lynn, of Worcester Park, south-west London, had problems with substance abuse and claimed he was drunk at the time of his attacks.

His mother had recently died of bowel cancer and his father has a number of health problems, the hearing was told.

Judge Etherington told Lynn he should consider how his "selfish and self indulgent" behaviour had "hurt the people who love you".