Back To The Future Cancelled
25 July 2014, 19:18 | Updated: 25 July 2014, 19:25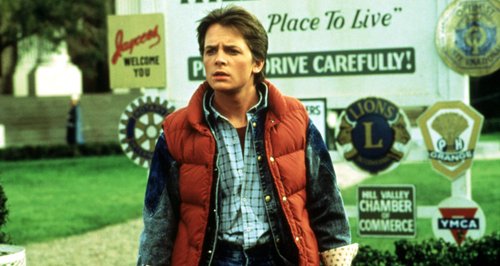 Organisers of an immersive Back To The Future cinema experience in east London have cancelled four shows, frustrating thousands of ticketholders.
Secret Cinema has already received online flak from disgruntled ticket-holders after the opening performance on Thursday 24 July 2014 was axed, which many fans said had left them badly out of pocket because of travel and accommodation costs.

Another show on Friday 25 July was similarly pulled with just hours to go, and now the whole weekend has been dropped. That means the event is now scheduled to begin on Thursday 31 July.

Ticket-holders were left angry when the team behind the event failed to let them know the fate of Friday night's show on Friday morning, which they had promised they would do. Instead, they left them waiting until an email was sent after 2.30pm - with many travellers from around the UK having already set off.

Secret Cinema has already staged dozens of lower profile events, but its presentation of Back To The Future - billed as recreating the setting for the 1985 hit movie starring Michael J Fox, with fans dressing up in 1950s period costumes and attending the "Enchantment Under The Sea" prom - captured the public imagination.

More than 60,000 tickets are said to have been sold, costing £53.50 for adults with family tickets costing £140.

Organisers have still to offer an explanation for the cancellation but there have been suggestions that there was an issue with the location - close to the Olympic Stadium - yet to be passed for fire safety, although a spokeswoman for the event has yet to respond.

Photographs circulating online suggested the site was still under construction. A preview event on Wednesday was also cancelled.

Secret Cinema's Facebook page has been bombarded by angry messages, with many unhappy with the lack of feedback from the organisation.

Among those who vented their frustration online was one woman who wrote: "I cannot begin to tell you how devastated and disgusted I am. Thank you for ruining my husband's birthday and making a pregnant woman cry."

Some said they had come from overseas and were unable to attend later performances, and a number demanded that they should be compensated for their outlay.

To compound the difficulties, visitors had been told to leave mobile devices at home before setting off to an agreed meeting point so they were unaware of the cancellation until they actually arrived.

One ticketholder said: "I have six friends who left their phones in their hotel like you told them to. Combined cost of train, hotel, entry £1000+."

And another wrote: "After telling people that mobile phones and similar devices would not be allowed on site, how many people do you think were at Hackney Wick clueless to the fact you sent an email with less than a couple of hours notice informing of cancellation? Not really a smart move."

A statement issued by organisers tonight explained: "Secret Cinema Presents Back to the Future is our most ambitious production to date out of the 45 large scale productions. Unfortunately, we have experienced some difficulties and have had to cancel tonight along with the remainder of this first weekend and plan to re-open next Thursday 31 July.

"We are hugely sorry for what we are sure will be extremely disappointing news. The show is going to be spectacular and we are working around the clock to ensure that all issues are ironed out as soon as possible in order to give ticket holders an incredible night."

Ticket-holders are being offered alternative dates or a "full refund" for the cancelled performances.

The founder and director of Secret Cinema, Fabien Riggall, said: "I am really sorry that this happened. We look to push the boundaries of what we can achieve in each production and this has been the most ambitious and complex production to date.

"We are very confident that all will be rectified by next week's performance and this will be the most accomplished Secret Cinema yet."

One ticket holder said she had driven down from Sheffield for tonight's event, only to learn of its cancellation after she arrived in London.

"We are frustrated at the situation," said the woman who did not wish to be named but called herself a "frustrated loyal customer".

She went on: "It's disappointing that they didn't let people know earlier on, before people started travelling.

"If there had been better information about the problems they were having, everyone would have been a lot more understanding."

Among messages posted to the Secret Cinema on Facebook was one which said: "This is the kind of PR disaster that will be studied by students of marketing for YEARS to come."

Another user wrote: "Wow, you are having bad luck, what with all these 'unforeseen' circumstances, and having no choice, with everything left until the last minute for three evenings running."

Several said they no longer wished to attend for the dates they had booked, as a result of all the no-shows.

Comedy actor Rufus Hound has told ticket-holders to turn up to the box office for his West End show Dirty Rotten Scoundrels - in which he stars at London's Savoy Theatre with Robert Lindsay - for free seats tonight to make up for their disappointment.

"You don't have to do anything other than turn up with your Secret Cinema ticket," he wrote on his blog.

"If you've got a big gang of pals all in London, all excited about going out and now you have nowt to do, well, now you do."