Blakelock Killing: Man Cleared
9 April 2014, 18:38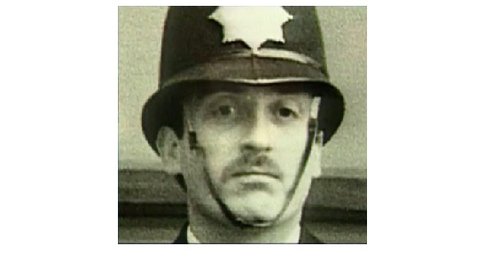 The family of a police officer killed in riots in north London in 1985 say they're disappointed a man's been cleared of murdering him.
Pc Keith Blakelock's widow, Elizabeth Johnson, wept after an Old Bailey jury found Nicky Jacobs not guilty of her husband's brutal murder.
The couple's sons, Mark, Kevin and Lee, who had supported their mother in court throughout the trial, held their heads in their hands as the verdict was delivered on Wednesday 9 April 2014.

In a statement, they said: "On behalf of the family, we would like to personally thank the Metropolitan Police, Crown Prosecution Service, prosecution barristers and all those involved in ensuring the case was able to be put before a jury and the tireless work completed and the professionalism and support received over the years.

"We are obviously extremely sad and disappointed at the verdict. We viewed this trial as an opportunity to see some form of justice served for Keith.

"There were many people involved in the murder on that night of 6 October 1985 and it is regretful that no-one has yet to be found guilty despite the number of people with knowledge of the events of that night.

"We appreciate the work and effort over the years since events on Broadwater Farm that night in trying to bring people to justice.

"We hope that more people are able to come forward so that some of those guilty can be brought to justice in the future."

The family had never given up hope that they would get justice.

On the 25th anniversary of the Tottenham riots, they actively encouraged fresh witnesses to come forward in the renewed investigation.
Pc Blakelock (pictured) was attacked by an armed mob after his unit was deployed to protect firefighters tackling a blaze on the Broadwater Farm estate on the night of 6 October 1985.

Nicky Jacobs, who was 16 at the time, went on trial at the Old Bailey accused of being one of the rioters who together stabbed the officer more than 40 times and tried to decapitate him.

Jacobs had denied murder.

There were cheers from the public gallery as the verdicts were returned by the jury of five women and seven men, who took just six hours to clear the 45-year-old.
2010 Appeal

In 2010, Mrs Johnson went on the BBC's Crimewatch programme with her sons to make a moving appeal.

She said: "I know it was the uniform that they were attacking that night, but there was a father and a husband inside that uniform and they killed him.

"He didn't stand a chance. He was armed with just a small truncheon and a shield. He was a home beat officer; he wasn't a riot officer. But he was called on to do a duty and he did it and he gave the ultimate sacrifice for doing that."

Mark, Kevin and Lee were 13, 11 and eight when their father was killed.

Mrs Johnson has spoken of her pride in her sons after the youngest followed in his father's footsteps and was hailed a hero for disarming a knifeman in the line of duty.

Lee Blakelock, who joined Durham Police in 2000, received an official commendation from his Chief Constable after he and a colleague managed to subdue the man as he held his ex-partner at knifepoint in front of their seven-year-old son.

Mrs Johnson, who remarried and has another son, Jordan, said at the time: "Even when his dad was alive he wanted to be a policeman.

"It was not because of what happened to his dad that he joined the police. It was following in his father's footsteps but not because of what happened. I am extremely proud of Lee, as I am of all my sons.''

When Jacobs was charged last year, the family issued a brief statement saying they had "never given up hope in getting justice" and expressing "our eternal gratitude to the Metropolitan Police Service''.

Throughout the Old Bailey trial, Mrs Johnson sat in dignified silence and was supported by her sons as they heard harrowing accounts of the mob attack nearly 30 years ago.

The family, who did not want to speak to the press during the case, attended court every day and were given seats in the courtroom away from Jacobs' supporters in the public gallery.