Bob Hoskins Dies At 71
30 April 2014, 19:05 | Updated: 1 May 2014, 16:16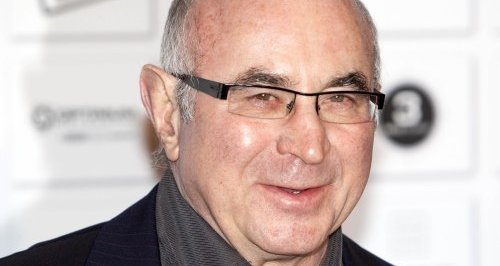 Tributes are being paid to Bob Hoskins, who has died of pneumonia.
The actor, 71, rose from humble roots in north London to Hollywood fame and fortune.

He was known for his roles in films as diverse as the animated hit Who Framed Roger Rabbit and the classic London gangland thriller The Long Good Friday.
His agent, Lindy King, released a statement from his family saying that he died in hospital on the evening of Tuesday 29 April 2014.
Bob Hoskins' career in video

His wife, Linda, and children, Alex, Sarah, Rosa and Jack, said: "We are devastated by the loss of our beloved Bob.

"Bob died peacefully at hospital last night surrounded by family, following a bout of pneumonia.

"We ask that you respect our privacy during this time and thank you for your messages of love and support."

The star, who landed a best actor Oscar nomination for Mona Lisa, retired from screen work in 2012 after he was diagnosed with Parkinson's disease, saying he had enjoyed "a wonderful career".

Hoskins, who was born in Suffolk after his mother was evacuated from the capital, grew up in north London and left school at the age of 15 to work in a series of odd jobs - including a stint in a circus - while dreaming of getting into acting.

He claimed he got his big break by accident after being mistakenly called for a theatre audition, but he proved a natural and stage success led him into TV and small film parts.

His breakthrough role came in Dennis Potter's 1978 series Pennies From Heaven in which he played lovelorn sheet music salesman Arthur Parker.

His portrayal of doomed London gangster Harold Shand - a career criminal who runs up against the IRA while attempting to muscle in on the redevelopment of the capital's docks - in The Long Good Friday made him a film star and he followed it with stand-out roles in Mona Lisa and The Cotton Club.

His role as George, the petty criminal who becomes entangled with a high-class hooker, in Mona Lisa won him an Oscar nomination for leading actor and by the mid-1980s he was an established Hollywood star with appearances in blockbusters including Who Framed Roger Rabbit and opposite Cher in Mermaids.

The diminutive actor with the instantly recognisable gravelly cockney accent - who often played rough-edged characters with a heart of gold - was also familiar to millions for his ad campaign for British Telecom in which he told viewers: "It's good to talk".

Among those paying tribute were Stephen Fry who tweeted: "Oh no, Bob Hoskins. Gone? That's awful news. The Long Good Friday one of the best British movies of the modern era. A marvellous man."

Hollywood actor James Woods, who starred with Hoskins in the 1995 drama Nixon where the Londoner played FBI boss J Edgar Hoover, said: "Oh man, what a terrible loss. A great guy and a superb artist."

Fellow Tinstletown legend Samuel L Jackson spoke of his sadness at the news, saying: "Truly saddened by the passing of Bob Hoskins! A truly Gigantic talent & a Gentleman. R.I.P."

Culture Minister Ed Vaizey paid tribute, saying: "For decades, Bob Hoskins has entertained television and film audiences of all age groups around the world. The British film industry has lost one of its true greats, and my thoughts and sympathies go out to his family and friends."

Hoskins continued to work steadily - appearing alongside Dame Judi Dench in wartime drama Mrs Henderson Presents, playing one of the seven dwarfs in Snow White And The Huntsman, starring Kristen Stewart, and appearing in British films including Made In Dagenham and Outside Bet.

One role he is said to have regretted was playing one of the Super Mario Bros in the film of the same name based on the hit computer game.

He had a better time with a role he did not win - when a proposed move to replace Robert De Niro as Al Capone in The Untouchables fell through he was given a £20,000 pay-off by director Brian De Palma, prompting Hoskins to ask if he had any more films he did not want him to be in.

The star - who had been married to Linda, his second wife, for more than 30 years - also moved into directing with The Raggedy Rawney and Rainbow.

Despite his flourishing big-screen career, Hoskins took a role in Jimmy McGovern's BBC1 series The Street in 2009, winning an international Emmy.

Dame Helen Mirren was also among those paying her respects to the man she starred alongside in The Long Good Friday and Last Orders.

She said: "Bob was a great actor and an even greater man. Funny, loyal, instinctive, hard-working, with that inimitable energy that seemed like a spectacular firework rocket just as it takes off.

"When I worked with him on his iconic film The Long Good Friday, he was supportive and unegotistic. He was never sexist, when many around at that time were. I had the honour of watching the creation of one of the most memorable characters of British film.

"I watched his brilliant Bosola in The Duchess Of Malfi, and then had the greatest of pleasures in playing again opposite him in the film Last Orders. Playing again with him was like playing a duet with a brother I had grown up with, which professionally I had.

"I personally will miss him very much, London will miss one of her best and most loving sons, and Britain will miss a man to be proud of."