Buggy Blown Onto Tube Tracks
11 August 2014, 17:04 | Updated: 11 August 2014, 17:09
Images of a child in a buggy being blown on to Tube tracks moments before a train arrived have been released by police.
The images taken from CCTV footage also show the child's mother going on to the tracks to carry baby and buggy to safety.

Moments before, the man with the mother had left the buggy at the bottom of the stairs at Goodge Street station in north London while the couple went to assist other family members.

But a strong gust of wind blew the unattended buggy carrying the child on to the tracks with an incoming train moments away from arriving.

The buggy can be seen precariously rolling towards the tracks. After realising what had happened, the child's panic-stricken mother rushed on to the tracks to carry the baby and the pushchair back on to the platform.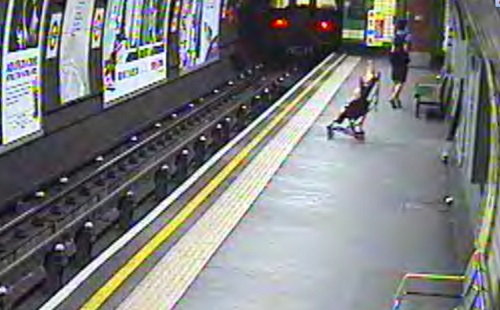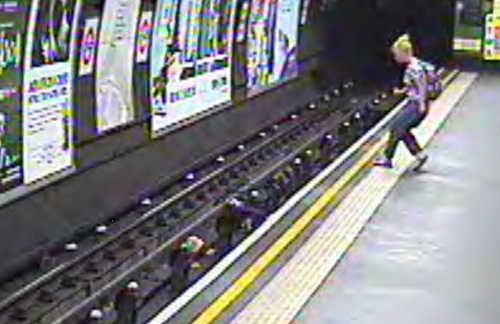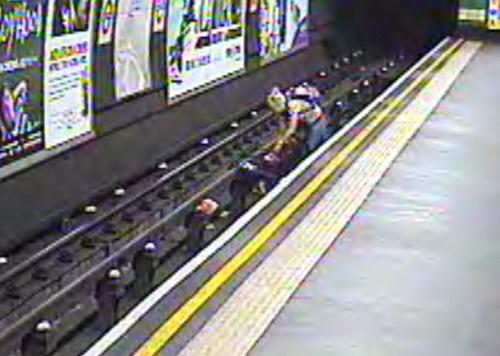 Police are now attempting to trace the couple involved in the incident on the evening of 23 July 2014 to ensure the child did not suffer any injuries.

"This was a frightening incident, not just for the scale of the danger the child was exposed to, but also because the woman then put her own life on the line by going on to the tracks," BTP chief inspector Mark Lawrie said.

He went on: "We urgently need to identify the people involved to ensure the child wasn't injured as a result of the fall on to the tracks.

"I have taken the step of releasing CCTV of the people involved to highlight the very real concern we have for all involved."

In the wake of the incident, BTP has warned the public to be aware of busy platforms and gusts of wind which can blow through tunnels.

Police urged anyone with any information about the incident to call on 0800 40 50 40 or to contact Crimestoppers on 0800 555 111.