Burglars Swipe Bolt Spikes
6 May 2014, 18:48 | Updated: 6 May 2014, 18:52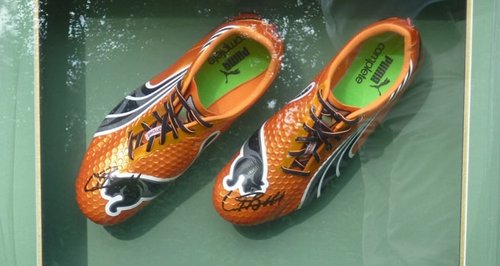 Usain Bolt's appealed to burglars who have stolen a signed pair of his running shoes in London to return them.
The Met Police say the orange Puma shoes, framed for display with a photo of the Jamaican star after he set a world record in 2009, are valued at around £20,000.

The burglary took place between 10.30pm on Saturday 26 April 2014 and 5.45am on Monday 28 April at a commercial premises on an industrial estate in Gloucester Road, Croydon.
Police urged anyone who saw anything suspicious in the area, or who knew the whereabouts of the shoes, or who had been offered them to buy, to contact Detective Constable Sheree Yates at Croydon CID on 0203 276 2287 or to call CrimeStoppers anonymously on 0800 555 111.

Bolt tweeted: "I know u love me..but please why u had to go stealing that signed Usain Bolt spikes in Croydon, England..I know u going to return it. Right?"