Cancer Hospital Fraud
29 July 2014, 18:10 | Updated: 29 July 2014, 18:15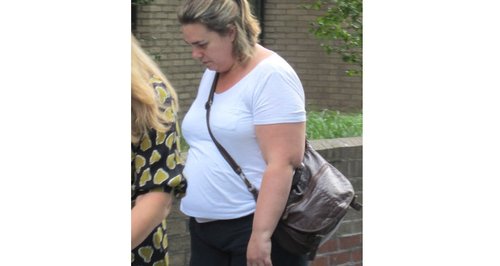 An NHS worker who defrauded London's Royal Marsden cancer hospital of more than £600,000 has been jailed for four years.
Stacey Tipler (pictured) exploited her job in the accounts department to alter payment details in a scam that resulted in just over £642,000 meant for cancer drugs being diverted from the London clinic and spent in part on shopping sprees and mortgage payments.

For several months after December 2011, the 32-year-old substituted account numbers of pharmaceutical firms who were due payment with the details of men recruited by her partner and the ringleader of the plot Scott Chaplin. He was jailed for five and a half years.

Passing sentence at Southwark Crown Court, Judge Anthony Leonard QC said Chaplin was the "main instigator" but Tipler was "invaluable" to the scam, which he said could had been "catastrophic" for the hospital's patients.

He told her: "It could only have been you who could have come up with the sophisticated and ingenious methods to ensure that your fraud went undetected.

"I am satisfied that it was not you who had the idea to defraud the hospital. It is my judgment that on your own this fraud would not have been committed.

"That said once the idea was there..the position of trust you held made you invaluable in achieving the fraud.

"The skill which you showed in trying to ensure the fraud would go undiscovered was very great and very dishonest. It was a very clever but dishonest fraud."

The money was funnelled to the group of associates and mostly withdrawn as cash as part of a money laundering operation before the lion's share was passed back to Chaplin.

The couple maintained a "cash reserve" to meet their bills and mortgage payments.

They are also understood to have spent several thousand pounds on a deposit for a venue in Surrey for their proposed wedding, although the nuptials did not took place.

Those receiving the siphoned off money retained some for themselves, using it to make mortgage payments or go on shopping sprees at luxury designers Gucci and Louis Vuitton. One spent £200 at the London Parachute School.

At one point a drugs firm threatened to stop supplying the hospital with medication after failing to receive payment because of the scam, Southwark Crown Court heard.

Some of the money was recovered but the hospital remains £310,000 out of pocket.

The Royal Marsden is a prominent hospital for cancer care, with past patients including the reality TV star Jade Goody and the actress Susannah York.

Tipler, a mother-of-two from Carshalton in Surrey who worked at the Trust for 10 years, was found guilty after a trial of conspiracy to defraud.

Chaplin, 33, also from Carshalton, was convicted of the same charge and a count of conspiracy to money launder.

Tipler, 32, used her role to carry out "manipulation" of the computerised accounts system so that the scam went undetected, the court heard.

The judge criticised her for offering a "spurious and wholly false" defence that she had acted under duress.

He said he accepted that the couple had only expected to defraud the hospital of about half the total amount that was taken.

However, due to an oversight by Tipler the details of two of their co-defendants stayed in place of suppliers when payments were transferred to a central NHS system in April 2012.

Judge Leonard said: "The impact of the failure to reverse the scheme could have been catastrophic for the hospital patients because one of the drugs suppliers threatened to stop supplying vital medicines."

Tipler betrayed no emotion as she was sentenced for her role in the fraud, which was uncovered by NHS investigators in May 2012.

Money of varying amounts was passed to the accounts of Adrian Horan, 43, Clinton Woollery, 35, Thomas Quinlan, 26, Russell Baker, 32, and William Flynn, 37.

Horan was said to have spent several hundreds of pounds in technology stores Apple, Comet and Curries.

Flynn paid more than £1,200 to his mortgage, while he also spent hundreds in JD Sports and at the London Parachute School, the court heard.

Woollery spent more than £1,000 at Gucci and several hundreds at Selfridges and Louis Vuitton, Baker splashed out at Debenhams and JD Sports.

Horan, of Sutton, Surrey, pleaded guilty to conspiracy to defraud and conspiracy to money launder.

Woollery, of Sutton; Quinlan, of Banstead, Surrey; Baker, of Worcester Park, Surrey, and Flynn, of Wallington, Surrey, admitted conspiracy to money launder.

Another defendant, Roy Harriott, 31, of Sutton, pleaded guilty to conspiracy to money launder after receiving a banker's cheque worth £32,000.

Horan was jailed for 21 months, Flynn for a year, Woollery for 10 months and Quinlan for eight months.

Baker and Harriott were given suspended sentences of nine weeks and 12 weeks respectively.

Kelly Matthews, a lawyer with the CPS' Specialist Fraud Division, said: "This was a sophisticated, large-scale fraud orchestrated to divert vital public funds for essential equipment and medicines at the Royal Marsden.

"Tipler and Chaplin bear the brunt of responsibility but they didn't act alone.

"It was only with the others agreeing for their bank accounts to be used to launder the money that they were all able to benefit from the fraud.

"The vital money was used towards Tipler and Chaplin's upcoming wedding, clearing debts and lavish goods, including Gucci and Louis Vuitton.

"This was a selfish and gross misuse of public funds and today those responsible have been brought to justice."

Sue Frith, head of the National Investigation Service at NHS Protect, said: "This gang stole a large amount of money from the NHS which was intended for patient care.

"The Royal Marsden is world-famous for its treatment of cancer patients and the funds stolen could have paid for radiotherapy, chemotherapy and cancer drugs.

"These custodial sentences reflect the seriousness of the offences and will act as a powerful deterrent to others.

"All suspicions of fraud reported to NHS Protect will be followed up and investigated wherever appropriate. We press for prosecution of offenders and seek the strongest possible sanctions."