Cement Flood Stops Tubes
23 January 2014, 18:26 | Updated: 23 January 2014, 19:14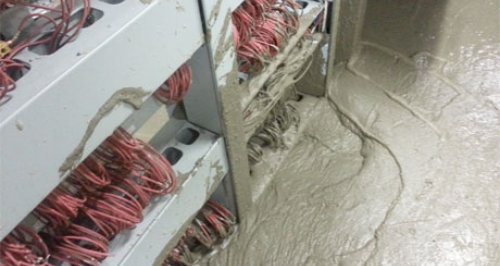 A big chunk of the Victoria Line had to be suspended after workers let cement leak into a signal control room.
It meant no trains were able to run between Warren Street and Brixton on the evening of Thursday 23 January 2014, and there were severe delays on the rest of the line.
Website UsVsTh3m managed to get hold of photos - one of which is shown above - which they claimed are of the damage caused.

They show relays submurged by the concrete after it seeped into the room.
TfL originally said flooding was responsible for the suspension, before admitting the true extend of the problem.
Nigel Holness, LU's Operations Director said in a statement to Heart that contractors working on the new station in an area next to the Victoria line signal control room were to blame.

"These works involved the use of water and cement which leaked into the room, damaging equipment. This has meant there are no signals working on the southern section of the line.

"Our engineers are working hard to resolve the situation as soon as possible to get services back up and running, but the line is expected to be affected for the remainder of the day while repairs are carried out."
Passengers were asked to use the Northern and Bakerloo lines instead. Replacement buses were also laid on.