Claudia's Daughter Suffers Burns
4 November 2014, 19:44 | Updated: 4 November 2014, 19:50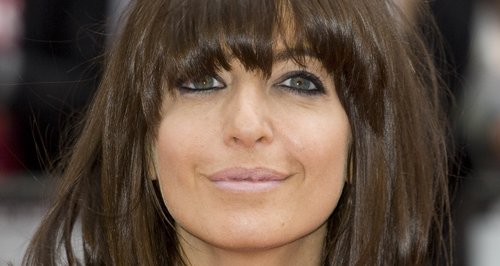 Claudia Winkleman's revealed eight-year-old daughter is recovering in hospital after she was burned while celebrating Hallowe'en.
Matilda's Hallowe'en costume was reportedly set alight on Friday 31 October 2014 when she came into contact with flames from a candle.

Winkleman and her film producer husband Kris Thykier said in a statement that they are hopeful that their daughter will make a full recovery.

But the 42-year-old will not be hosting Strictly Come Dancing next weekend and whether she returns to the show after that is yet to be confirmed.

The mother-of-three had missed last weekend's show following the incident, and it was announced at the time that one of her children had "become ill".

Now the couple have said in a statement: "Our daughter was involved in an accident on Friday night while celebrating Halloween. She is having the best care possible and we are hopeful of a full recovery.

"We would like to thank everyone that has been so supportive and particularly the NHS doctors, nurses and staff who have been absolutely incredible."

They urged people to take care while celebrating Bonfire Night.

"We would like to take this opportunity to remind anyone taking part in fireworks parties or Guy Fawkes celebrations to be vigilant about the dangers of candles, open fires and fireworks and to please have the appropriate safety measures in place and to hand," Winkleman and Thykier said.

The BBC said that Zoe Ball, who hosted last weekend's Halloween special with Tess Daly, will fill in for Winkleman this weekend.

"Zoe Ball will co-host Strictly Come Dancing this weekend. All our thoughts and very best wishes are with Claudia and her family at this time," the spokesman said

The Great British Sewing Bee and Film 2014 presenter Winkleman and former PR executive Thykier, whose film production credits include Kick-Ass and Paul Potts movie One Chance, married in 2000.

The couple have three young children - Jake and Arthur, as well as Matilda.

Winkleman landed the role of Strictly co-host, joining Daly, in the autumn after Sir Bruce Forsyth decided to step down from the hit show after a decade.

The presenter, the daughter of former newspaper editor Eve Pollard, had previously fronted the weekly results show and stepped in during Sir Bruce's occasional absences.

A spokesperson for the London Ambulance Service said that it took a child to hospital after being called to a London address on Friday evening.

"We were called at 5.23pm on Friday to an address on Connaught Square, W2," the spokesperson said.

"We sent an ambulance crew, a single responder by car and an advanced paramedic to the scene.

"We treated a child and took her to hospital as a priority."

The London Fire Brigade reiterated Winkleman's warning about the dangers of candles, open fires and fireworks.

Last year, there were 82 fire-related injuries between Halloween and Bonfire Night - a 37% increase on the number of injuries recorded in 2012.

London Fire Brigade deputy commissioner Rita Dexter said: "I hope Claudia's daughter has a speedy recovery after this ordeal.

"It's a shocking but timely reminder that open flames can be lethal if you don't keep an eye on them or they are left unattended. Make sure candles are placed well away from flammable items and clothing, otherwise the results can be catastrophic."