Concern Over Carnival Stabbings
26 August 2014, 19:06 | Updated: 26 August 2014, 19:12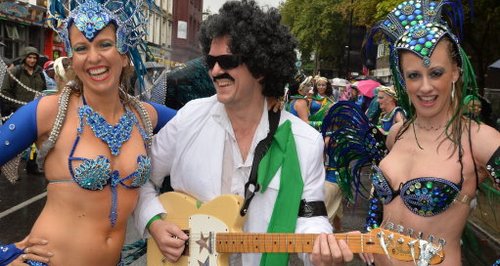 The head of the Met Police says he's concerned by the number of stabbings at this year's Notting Hill Carnival.
People enjoying the carnival on Bank Holiday Monday.
Commissioner Sir Bernard Hogan-Howe said some of the knife attacks were "centimetres from being a murder".

Three people were stabbed and eight others received knife wounds at the event over the August bank holiday weekend, which is the biggest street carnival in Europe.

Two police officers were also injured as they tried to make an arrest for drug dealing.

Sir Bernard Hogan-Howe said: "Although early indications are that reported crime is down at this year's Notting Hill Carnival, I am concerned by the number of stabbings over the weekend.

"Stabbings are up on last year and in some cases these are just centimetres from being a murder. Each will be thoroughly investigated and we will do everything possible to ensure those who brought trouble to Carnival are placed before the courts.

"Two of my officers were injured during an arrest yesterday and this shows the risks they must take. I would like to thank all the officers and support staff for their hard work in the most difficult of weather conditions. Their commitment is a major factor in ensuring the carnival is a safe and enjoyable event for the vast majority of those attending."

The latest arrest figures released this morning showed that 252 people were held over the weekend, including 76 for drug crimes, 43 for public order offences and 23 for possessing an offensive weapon.

Scotland Yard brought in special powers last night allowing officers to stop and search those suspected of possessing weapons and to demand the removal of masks and hoods.

This followed a number of stabbings, including a fracas at the junction of Colville Terrace and Colville Gardens which saw a 29-year-old man hospitalised after being stabbed and eight others receiving knife wounds.

In two other knife attacks, an 18-year-old man was injured in Southam Street, and another man suffered a serious stab wound that is being treated as attempted murder.

Some 7,000 police officers were on patrol as thousands of revellers braved the wet weather to experience the carnival.

A gang crime crackdown in the run-up to the event saw 157 arrests and the seizure of guns, drugs and thousands of pounds in cash. Officers found two machine guns and a handgun, crack cocaine and around £78,000 in cash.

The largest drug haul was in Lewisham, south east London, where crack worth £300,000 that was destined to be sold at the carnival was seized.