Construction Worker Killed
14 April 2014, 19:10 | Updated: 14 April 2014, 19:14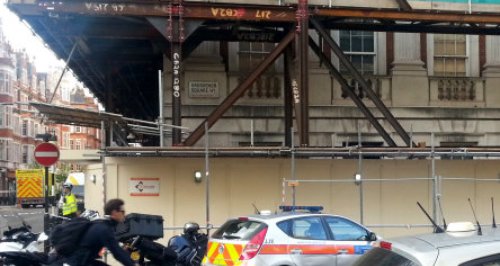 A construction worker's been killed and another injured when a building in London near the US Embassy being redeveloped into flats partially collapsed.
Police were called to the site, a former US Navy headquarters in Grosvenor Square, Mayfair, at 3.45pm on Monday 14 April 2014 and the man, who is believed to be in his 30s, was pronounced dead.

The building was bought by the Abu Dhabi Investment Corporation and developer Finchatton in April last year from a consortium headed by restaurateur and entrepreneur Richard Caring, who owns classic London venues including the Ivy, Scott's and Annabel's.

Declan Sherry, chief executive of site contractor McGee, said: "At approximately 4pm today, an incident occurred on the construction site at 20 Grosvenor Square which required an ambulance to be called for two workers who were taken to hospital.

"McGee, the contractor responsible for the site, is liaising with the workers' families. We cannot, therefore, release any further details at this time."

Police asked members of the public to avoid the area, including anyone planning to go to a demonstration nearby at 6pm.

Scotland Yard said: "Police are advising motorists and the public to avoid the Grosvenor Square area following a partial building collapse.

"Police were called at 3.45pm today, Monday April 14, to a building site on Grosvenor Square. Officers, London Ambulance Service, London's Air Ambulance and London Fire Brigade are in attendance.

"A man, believed to be in his early 30s, who was working on the site, was pronounced dead at the scene. At least one other person has been injured.

"The Health and Safety Executive has been informed. Road closures remain in place.

"Officers are also advising anyone who was planning to attend a demonstration in the area from 6pm today that it may not be possible to attend the approved location."

The site was was originally built as flats in the 1930s and had been vacant since 2007.

After the collapse, construction workers wearing hard hats and fluorescent jackets were gathered in the centre of the square, being spoken to by a manager.

Three ambulances remained at the scene, and police had cordoned off North Audley Street.

A spokeswoman for London Ambulance Service said: "We were called at 3.43pm to Grosvenor Square to reports of an incident. We sent London Air Ambulance, three of our ambulance crews, three responders in cars, our hazardous area response team and two officers.

"Sadly one person, a man, was pronounced dead at the scene by the doctor from the air ambulance. We treated a second patient, a man, for minor injuries and took him to University College Hospital."

The Health and Safety Executive confirmed that it is investigating what happened.