Crossrail Extended To Reading
27 March 2014, 19:15 | Updated: 27 March 2014, 19:16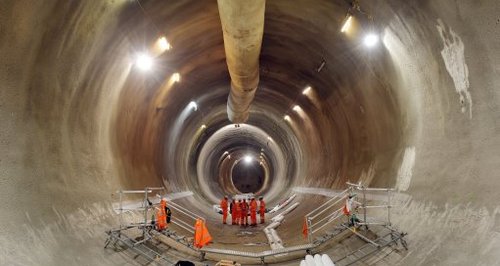 The government have announced the Crossrail project being built under London is going to be extended west to Reading.
It had always been hoped that the line could be extended further west from Maidenhead although until now there had been no firm decision on this.

Crossrail stretches from Berkshire in the wast to as far east as Shenfield in Essex and also takes in spurs to Heathrow Airport in west London and to Abbey Wood in south east London.

Transport Minister Stephen Hammond said today that, once Crossrail services began across the whole line in 2019, passengers travelling to London from Reading and other Thames Valley stations would be able to reach more destinations across London without the need to change at Paddington.

Once operational, Crossrail services are expected to serve Maidenhead on a four-trains-per-hour basis as originally planned, with two of these services continuing to Reading via Twyford.

In addition, the planned future Great Western franchise service pattern from Reading to London will not change. Twice hourly, semi-fast services and existing fast mainline services will continue, calling at the same stations as today.

Mr Hammond said the Reading extension will also generate some cost savings from reduced infrastructure enhancements at Maidenhead and Slough, and only minor works will be required at Twyford and Reading to accommodate Crossrail services.

mfl


London mayor Boris Johnson said: "I am thrilled that the people of Reading and Twyford will be able to take advantage of Crossrail, putting them on the doorstep of London's main employment centres by directly linking them to the City and West End in world-class style."

Shadow transport secretary Mary Creagh MP said: "Labour in government safeguarded the potential Crossrail route from Maidenhead to Reading, so we welcome the decision to extend Crossrail to Reading.

"This is good news for commuters struggling with a cost-of-living crisis and will make the most of Labour's investment in Reading station, which should help the Thames Valley economy to grow faster."

Reading East Conservative MP Rob Wilson, although welcoming the extension, said: "This can only be seen as stage one in the process of delivering Crossrail for Reading. This first phase will not reap the full benefits that Crossrail can and should bring to benefit people and businesses in Reading and the wider region.

"Because there will be so many stops between here and London, journey times to London will be no faster than they are now."