Double Decker Bus Crash
20 October 2014, 18:07 | Updated: 20 October 2014, 18:14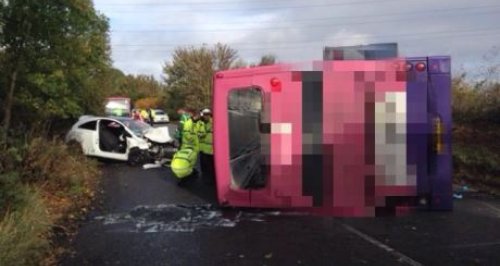 A 41 year old man's been arrested after a double decker bus overturned just off the M25 following a crash with a car.
Forty-five people needed hospital treatment after the crash in Hertfordshire, on the St Albans Road near Barnet, on Monday 20 October 2014.
Six ambulances, an air ambulance and a hazardous response team were sent to treat 87 patients.
Eight people were taken to hospital with head and neck injuries. A further 37 had to have treatment for cuts and bruises.
Darren Meads from the East of England Ambulance Service said: "Although this incident involved a large number of potential patients, we had resources on scene quickly and were able to start assessing and treating those in need as soon as possible," he said.

"Eight people were taken to hospital by ambulance - seven to Barnet Hospital and one to the Lister. They were suffering from suspected head, neck, and other traumatic injuries.

"A further 37 patients, who had minor injuries like cuts and bruises, were taken by coach to the minor injury unit Queen Elizabeth Hospital for further treatment. Thanks to the excellent support from our police colleagues, we were able to discharge a further 42 non-injured people at the scene.

"Our crews did a fantastic job in assessing and treating such a large number of casualties and ensuring that they got the care they needed quickly. We do extensive planning and preparation for incidents like this one, which means when they do happen we are able to provide the best possible response."