Gun Scare At Director's House
29 August 2014, 19:08 | Updated: 29 August 2014, 19:12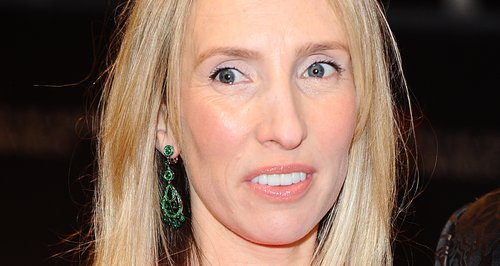 Firearms police have been investigating after a machine gun was spotted inside the London home of Fifty Shades of Grey director Sam Taylor-Johnson.
Police were called to her home in Primrose Hill late in the evening of Thursday 28 August 2014 when a passer-by spotted a machine gun on a desk inside the house.

The gun, a deactivated M16 assault rifle, had been given to the film-maker and photographer as part of an art project.

A Metropolitan Police spokesman confirmed officers from the firearms unit were called after the gun was spotted through a window of the north London house shortly before midnight.

Taylor-Johnson (pictured), who is currently working on the film version of the erotic best-seller, met her actor husband Aaron when he played John Lennon in her Beatles film Nowhere Boy.

A spokeswoman for the couple said: "We can confirm that early this morning police were called to the London home of Mr and Mrs Taylor-Johnson following a report of a firearm on the premises by a concerned passer-by.

"The family were not present in the property at the time but the police gained entry via a key holder.

"The firearm was located in Sam Taylor-Johnson's basement studio and has been confirmed as a certified and fully decommissioned M16 assault rifle that was provided to Mrs Taylor-Johnson by the international charity Peace One Day as part of an art project entitled 'Peace One Day M16'.

"The project, curated by Jake Chapman, consists of new works by some of the most celebrated names in contemporary art all of whom are transforming fully decommissioned M16 assault rifles."

No arrests have been made.

Taylor-Johnson is not the first celebrity to attract police attention in this fashion.

Spaced actor Nick Frost, who played Territorial Army obsessive Mike in the Channel 4 comedy, sparked a police raid when he took a gun home to practise a scene.

He said: "In Spaced I was a weapons expert and had to strip a MP5 machine gun blindfolded, so they gave me one to take home.

"I'd done it a few times, when I pulled off the blindfold and there were six armed policeman streaming in and screaming at me."

A member of the public had called the police after seeing the barrel of the gun sticking out of Frost's bag.

He added: "My voice went very high and I said, 'I'm an actor!' I was told later that they had blocked the road off and had a sniper. If I had pointed the gun at them, they would have shot me!"

A spokesman for the charity confirmed the gun would be auctioned at Bonhams in London on October 17 as part of a fundraising drive.

Peace One Day founder Jeremy Gilley said: "The M16 art project is an incredible way to raise awareness of the campaign that we are presently running in the Great Lakes Region of Africa. I am delighted to be working with Sam Taylor-Johnson again. She is a huge supporter of our work, and I can't wait to see her finished piece."

A similar project two years ago, when Taylor-Johnson refashioned an AK47, made £10,000 at auction.

Other artists taking part in this year's project include Jeremy Deller, the Chapman Brothers and Peter Doig.