Harry Signs Condolence Book
9 January 2015, 19:21 | Updated: 9 January 2015, 19:24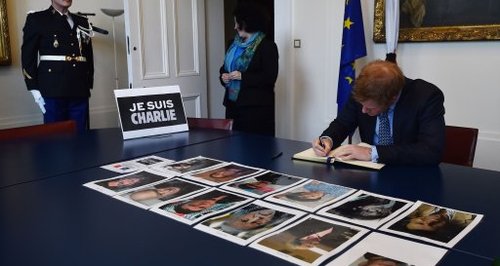 Prince Harry has paid his respects to the victims of the Charlie Hebdo attack in Paris by signing a condolence book at the French Embassy in London.
Harry added his name to a growing list of signatures from leading figures who have expressed sympathy for the 12 people gunned down by attackers who targeted a satirical magazine.

London Mayor Boris Johnson and Home Secretary Theresa May have already signed the book set up at the embassy in Knightsbridge for national figures.

Members of the public have been leaving messages of support in another book opened at the French Institute.

When Harry first arrived at the embassy in Knightsbridge he was greeted by Sylvie Bermann, France's ambassador to the UK.

Ms Bermann ushered him in to a room where the book of condolence was opened on a large table next to colour photographs of all the victims.

The table also displayed the slogan Je suis Charlie, adopted worldwide by supporters of the satirical magazine Charlie Hebdo, and a bouquet of roses left by the London Mayor.

Harry, dressed in a suit and tie, wrote the brief message "With warmest best wishes" above his name.

As the prince and the ambassador left the room, they chatted briefly, and in a possible reference to the two Islamist militants suspected of the Charlie Hebdo attack who are holed up in a building outside Paris, Harry said: "I'm sure it will come to an end soon."

The Queen has already sent a message of condolence to France's president Francois Hollande in which she expressed her "sincere condolences" to the families of those who were killed in the attack.

After the prince left, the ambassador said: "For us, it's very important to have the support of the Royal Family.

"We were very moved by the support of Her Majesty the Queen and then the prince. It shows the solidarity of the British people and British Government and Royal Family (with us)."