Jailed For Housemate Murder
24 March 2014, 19:00 | Updated: 24 March 2014, 19:08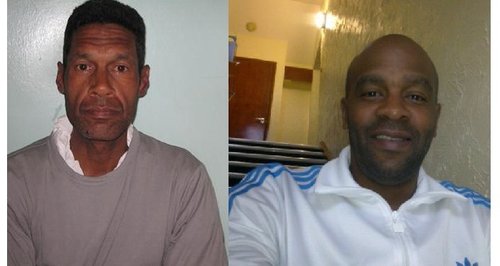 A man who murdered his housemate in north London over an argument about a slammed door has been jailed for at least 24 years.
Paul Floyd Marshall, (pictured, left), 51 from Elmhurst Road, Enfield was found guilty on Monday 24 March 2014 of the murder of Orville Brown, 47, (pictured, right) at the Old Bailey.

The court heard how an argument between the two, who shared a house in Elmhurst Road, began in the early hours of 12 July 2013 over a slammed door within the property.

A tussle ensued shortly afterwards which resulted in Orvil being stabbed. The altercation was overheard by a neighbour who then witnessed Marshall leaving the property heading in the direction of Albany Leisure Centre carrying a large bag.

Police received a number of calls following the stabbing, one from another housemate who had returned home to find Orvil lying in a pool of blood in the hallway and one from Marshall who stated that there had been an incident in Elmhurst Road and that he was involved in the incident.

Officers and the London Ambulance Service arrived at the property at around 2.15am and found Orvil lying face down in the hallway in a large pool of blood. He was treated at the scene by LAS and air ambulance staff but was pronounced dead at 2.55am.
A post mortem examination at Haringey Mortuary that same day gave the cause of death as a stab wound to the neck and hypovolemic shock.

Marshall was arrested shortly after the incident in connection with the murder.

During his arrest, Marshall told Police that the knife he had used could be found in the front garden at his address. A search of the front garden resulted in officers locating the murder weapon.

Marshall was charged the following day with Orvil's murder.

Detective Chief Inspector Dave Whellams from the Homicide and Major Crime Command (HMCC) said: "Marshall callously stabbed Orvil Brown over what appears to be a trivial argument about a slammed door. A man has needlessly lost his life and Marshall will now spend a significant amount of time in prison.. I hope that today's conviction will bring a small amount of solace to Orvil family."