Kate Opens Leisure Centre
19 January 2015, 18:18 | Updated: 19 January 2015, 18:22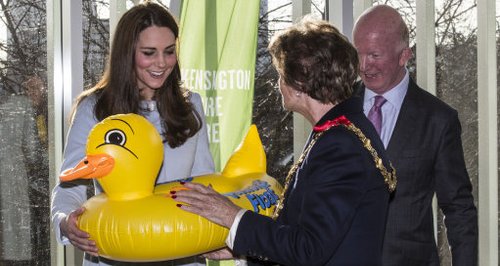 The Duchess of Cambridge has revealed she does not know the sex of her unborn child - but it has been kicking.
Kate clutched her stomach as she told a teenager about the phenomenon experienced by pregnant women, during a visit to open a new council leisure centre in Ladbroke Grove.

The £25 million Kensington Leisure Centre was built on the site of a 1970s pool where the Duke of Cambridge and Prince Harry learned to swim, and in keeping with the theme, the Duchess was presented with a large duck-shaped inflatable yellow ring for Prince George, now almost 18 months old.

Kate is six months pregnant with her second baby, due at the end of April, but looked relaxed as she spent the day in the Royal Borough of Kensington and Chelsea carrying out a series of engagements.

When she joined a coffee morning staged by the organisation Family Friends, which provides mentors for parents or children in need, a tongue-tied and bashful two-year-old Ryan Dixon ran away instead of presenting a posy.

And eight-month-old Zack Benson burst into tears when Kate arrived to open the new Kensington Aldridge Academy in the area.

At the new centre, due to open at the beginning of March, the Duchess chatted to groups of children involved in sporting activities from basketball to curling.

Martina McDonagh, 17, who uses a wheelchair as she has spinal problems, quizzed the royal visitor about her unborn child.

The teenager, who attends the Jack Tizard School for youngsters with learning difficulties in nearby White City, revealed: "I said to Kate: 'I hope it's a girl', and she said: 'I can feel it kicking.'

"And she told me she doesn't know if it's a boy or a girl."

Kensington and Chelsea Council presented Kate, who wore a Seraphine Natasha cashmere blend coat and patterned dress, with family life membership for the leisure centre, along with the duck-shaped rubber ring for George and his own personalised kit bag for swimming lessons.

William and Harry took lessons at the previous pool on the site when they were pupils at nearby Wetherby Prep School.

George has already started going to the Buckingham Palace swimming pool with his mother but is expected to follow in his father's footsteps by going to the leisure centre when he is a bit older.

Tim Ahern, the council's cabinet member for environment and leisure, said: "The Duchess was talking about Prince William learning to swim here and she said she hoped Prince George can come here to learn too.

"If George goes to school at Wetherby or one of the other local schools, he will almost certainly come here. Wetherby will use it. All the local private and council primary schools book all the lessons that we have."

Nick Paget-Brown, leader of the Conservative-run council, offered further special assistance to the borough's most famous resident family up the road at Kensington Palace.

He said: "You are always free to contact us if your bins haven't been emptied. Or if Prince George develops a taste for noisy parties in his teenage years, just call our noise nuisance service and we'll have a quiet word."

The new centre replaces one built in the mid-1970s, which itself was predated by the Victorian Lancaster Road Baths. Despite a major refurbishment in 2001, the old pools were quickly outdated.

During the day Kate was spotted sporting a plaster on the middle finger of her right hand.

She began by meeting mothers who had been helped by Family Friends, a voluntary organisation that provides befriending and mentoring services to families in deprived areas of the boroughs of Kensington and Chelsea and Hammersmith and Fulham.

The Duchess chatted to Tracy Samuels, 36, who has benefited from a mentor provided by the organisation.

Speaking about how Family Friends had helped her, Ms Samuels said afterwards: "I got everything out of it, my self belief, motivation, and I was even thinking about suicide because after my son was born I was very depressed. But my mentor got me right back on track and I'm very happy to have found Family Friends.''

Talking about Kate she added: "She said she could see I've got my confidence back and self belief because I've got my smile back.''

When it came for her two-year-old son Ryan Dixon to present a posy of lilacs and nistercians to Kate, he ran away and hid behind his mother's legs during the reception held at another charity's offices in Ladbroke Grove.

Kate joked with Ryan, who minutes before was happily playing with his toys, and said: "Where's your dinosaur gone?"

Ms Samuels - a single mother from Elephant and Castle in south London, who works as a care team supervisor at the Royal Hospital, Chelsea - said she and Ryan had spent the weekend practising the posy presentation and he was supposed to say: "This is for you, some lovely flowers'.

"'But she said: "Ryan said, 'no no, mummy, no no'. I had to give her the flowers. Normally if there are children and toys around he's fine.

"Kate said thank you, and she said she does get a bit shy sometimes.'

'When the Duchess arrived to open a new academy nearby she met a mother and her new baby.

She asked Rosie Benson, the wife of the principal of the Kensington Aldridge Academy ( KAA), as she cradled her eight month old son Zack, what it had been like to be part of the new school and motherhood.

Mrs Benson replied: "It's fantastic. It is like giving birth twice."

But Zack, who was teething and was due to be fed, burst into tears and Kate said "You're very tired", and told his mother "He is very sweet."

Mrs Benson, who celebrates her 34th birthday tomorrow, said later: "I think he got a bit overwhelmed. He has got some teeth coming through, and I think he is quite tired and hungry."

There are currently 184 pupils in the school who started lessons in temporary classrooms in September. They moved in to the new building in November and the Duchess was given a guided tour which included a chat with pupils in the library plus also meeting catering staff.

She also popped in to a geography class where a surprised Duchess made the pupils laugh by saying: "You were all so very quiet that I did not hear you from outside."

In inviting her to officially unveil a plaque at a special school assembly, Mr Benson said that the new school could look forward to some special days ahead such as its first A level results, its first pupils getting accepted to go to university and also its first entrepreneur millionaire.

But he added: "I find it hard to think of a day that would be as important or as special as today."