Knife Murder Gang Jailed
2 October 2014, 19:10 | Updated: 2 October 2014, 19:22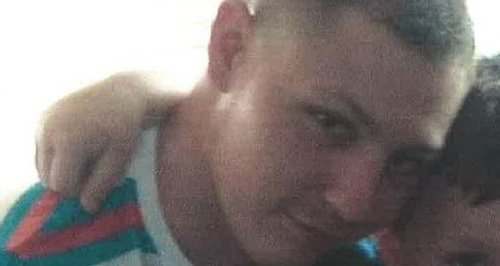 A gang of teenagers have been jailed for killing a man with the mental age of nine as they tried to mug him in west London.
Jamal Jones, 17, was caught on graphic CCTV film stabbing Dean Mayley (pictured) in the heart after stopping him in the street and demanding his mobile phone in Greenford on the afternoon of 7 February 2014.

He denied he meant to seriously hurt the 24-year-old when he lashed out with the blade but following a trial at the Old Bailey jurors found him guilty of murder.

He was jailed for life with a minimum of 15 years, while three other teenagers who provided back-up in the attempted robbery were also jailed.

Sentencing the four, Judge Martyn Zeidman QC told them: "It was Jamal Jones who plunged the knife into Dean's heart.

"But make no mistake, you all have blood on your hands. You each played an important part in this event and you did so knowing that Jamal had a knife and realising that he might stab Dean with it.

"Put bluntly, now Dean is dead and it's your fault."

The judge described Mr Mayley as a "kind, innocent and vulnerable young man".

Reading from a victim impact statement by his mother, Donna Mayley, the judge added: "The loss of our lovely Dean has ripped our family apart.

"It is hard to comprehend that we will never see him again."

During the trial, the court heard that Mr Mayley was killed because he did not hand over his phone to the robbers.

He had learning difficulties due to a brain disorder called microcephaly and probably did not fully understand what they wanted, jurors were told.

The CCTV showed three hooded figures surround Mr Mayley before one of them stabbed him with a knife.

Miguel Leiba, 17, from Hanwell, and Ryan Beresford, 19, of Acton, blocked the victim's path and Michael Mensah, 18, from Greenford, drove them to and from the scene.

All three were cleared of murder but convicted of manslaughter and also found guilty of the attempted robbery of Mr Mayley.

Leiba, who was 16 at the time of the offence, was jailed for 14 years for manslaughter and eight years for attempted robbery, to run concurrently.

Beresford was sentenced to 15 years for manslaughter and eight years for attempted robbery, to run concurrently.

Mensah was jailed for 15 years for manslaughter and nine years for attempted robbery, to run concurrently.

He was also found guilty of an earlier robbery on January 28 and was sentenced to two years for that offence, meaning he will serve a total of 17 years.

Prosecutors said that while only Jones, from Acton, west London, wielded the knife, all four played a part in the attempted robbery and killing.

Judge Zeidman said the defendants might not have intended to kill Mr Mayley, but added: "On CCTV footage Jones can be seen looking around, steadying himself then stabbing the victim.

"It was a clear, deliberate act, carried out with the force of a firm punch - as the pathologist told us - and it went into Dean's heart and came out the other side.

"A stabbing of that kind to someone's heart runs the most obvious risk of causing someone's death, even when death is not intended."

Referring to the victim's family, the judge told the four defendants they had "in effect imposed upon them a life sentence of grief".

He said they had the "chance to keep Dean's memory alive by telling others about the lessons of this case".

"You need to scream it from the rooftops," he added. "Knives destroy lives. Knife crime equals prison."

He said the case was aggravated by the victim's vulnerability, even though the defendants were unaware of his condition.

He added that no attempt was made by them to help Mr Mayley, who staggered and collapsed in the road as members of the public rushed to his aid.

He died later in hospital.

After they were convicted, Judge Zeidman lifted a court order banning the naming of Jones and Leiba because of their age.

During mitigation, the court heard the pair had no previous convictions, while Beresford had a caution for petty theft and Mensah had convictions for knife crime.

Beresford and Leiba have attention deficit hyperactivity disorder, the court heard, but Mensah was described as "by far the most intelligent of the defendants" and had nine GCSEs.

Ms Mayley said her "family will never be the same again".

In a statement released through police, she said: "The youngest of our family has had his life cut short for no reason and we will all struggle to come to terms with this for the rest of our lives."

Investigating officer Detective Inspector Mark Lawson, from the Met's homicide and major crime command, said: "The defendants were a team of robbers who, armed with a knife, were scouring the area that day looking for someone to rob.

"They had not a moment's hesitation in using that knife when Dean didn't immediately hand over his property. The knife was plunged into his heart; there could be no doubt of the defendants' intentions.

"Dean's family remain horrified and devastated by his needless death at the hands of these cowards and I hope their conviction today goes some way to helping them begin to move forward with their lives."