Lee Rigby Remembered
22 May 2014, 19:04 | Updated: 22 May 2014, 19:07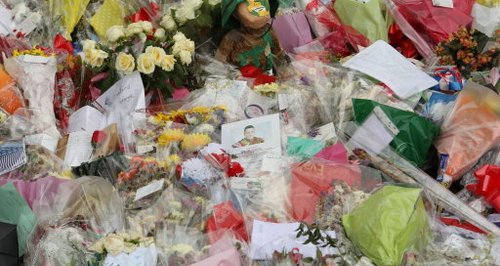 Hundreds of people have been to a memorial service to remember Fusilier Lee Rigby - a year since he was killed in the street in Woolwich.
Motorbike riders including current and former servicemen and women came to Woolwich Barracks to pay their respects on Thursday 22 May 2014, with military personnel marching from the site's parade ground to the main gates where the service was held.

Others rode past as the remembrance event took place, beeping their horns and waving union flags.

Well-wishers lined the street outside Woolwich Barracks to watch the bike parade and many people chose to wear Help for Heroes T-shirts to show their support.

Organiser Julia Stevenson read a touching poem sent by the soldier's mother, Lyn Rigby.

It said: "The day is fading and the night is drawing near, the setting of the sun for a life we hold so dear.

"The darkness is not forever, for again the day will come, and new light will surround us and engulf us all as one.

"We'll manage through these bad times, we'll struggle through the storm.

"We'll tread amongst the roses, we'll pull the painful thorn.

"Yes, we know that we will miss you, but that's for us to bear,

"For we know that you are safe now, and you don't have to care.

"Goodnight our son, brother, uncle, father and soulmate.

"Goodnight my fellow soldier friend, goodnight our peaceful warrior.

"In your memory we'll defend."

Well-wishers, young and old, took turns to lay bunches of flowers at the spot where Fusilier Rigby was murdered on May 22 2013. Some people hung up British flags which read "R.I.P Lee Rigby".

One note on a floral tribute read: "One year on, not a day goes by when you are not in our thoughts. A hero gone too soon."

Ingrid Loyau-Kennett, who confronted one of Fusilier Rigby's killers, Michael Adebowale, at the murder scene, was among those who came to pay their respects.

Fusilier Rigby, a father-of-one who had previously served in Afghanistan, was stationed in Woolwich, working as a recruitment officer, when he died, and also performed duties at his regiment's headquarters at the Tower of London.

Organiser of the memorial event Ms Stevenson said: "The Lee Rigby ride is about a single soldier, brutally cut down not on the battlefield, but on the streets of London.

"In the act of riding through Woolwich on the anniversary of his death, we are expressing the admiration and respect we all share for our armed forces.

"As we ride we will remember Lee, and our thoughts will be for his family at this difficult time, and his regiment.

"We will proudly represent a nation who was moved by this tragedy by riding as one."

Rector of Woolwich, the Reverend Jesse van der Valk, leading the service, said: "Let us dedicate ourselves to always remember our friend and brother and loved one and soldier, Drummer Lee Rigby, whose life was cruelly taken away in this place in the service of his country."