London Sizzles
19 May 2014, 19:16 | Updated: 20 May 2014, 19:17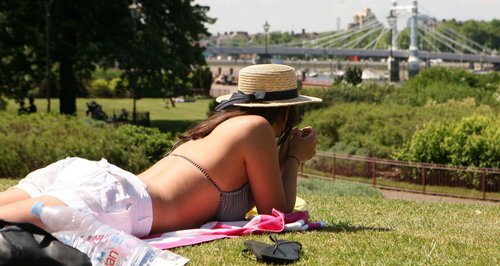 London was hotter than Ibiza and Cyprus on Monday 19 May - the UK's hottest day of 2014 so far.
Many of those lucky to escape work flocked to parks and beaches on Monday 19 May 2014 as the mercury rose to 26.3C (79.3F) at Heathrow Airport, compared to around 22C (71.6F) on the party island of Ibiza.

Much of the UK enjoyed balmy temperatures well above the May average.

Met Office spokesman Dan Williams said: "Gravesend in Kent saw a maximum of 26C (78.8F) and there were a few other places close to that around the South East.

"A good chunk of England has seen temperatures of 20C (68F) and above today.

"It's only in far western places areas like Cornwall that it hasn't got above 20C but even these places were in the high teens.

"The lowest UK maximum has been around 12-13C (53.6-55.4F) in Northern Ireland and parts of Scotland."

Although much of the country basked in warm temperatures, parts of Wales saw heavy downpours and some intense spells of thunder and lightning.

The mercury is not expected to reach as high tomorrow, although East Anglia and the East Midlands should get maximums of around 22C (71.6F).

"Elsewhere it will still be pretty decent, and we're predicting temperatures of up to 20C in parts of northern England and Scotland as well.

"But at the far western tip of England and Wales the top temperatures will be 13-14C (55.4-57.2F)."

By Wednesday the mercury is expected to drop further, although there could still be maximum temperatures of around 18C (64.4F), which is slightly above the May average for England of 16C (60.8F).

London Ambulance Service (LAS) said they had experienced their third busiest weekend ever with the warm weather and the FA Cup final contributing to the rise in calls to the service.

Staff in the LAS answered 6,606 emergency calls yesterday, an increase of 28% compared to the previous Sunday, making it the sixth busiest day ever.

Saturday was also exceptionally busy, with a total of 6,137 emergency calls recorded, compared to just over 5,000 calls the previous weekend.

At Saturday's busiest, staff taking and handling calls in the control room took 403 calls an hour, between 11pm and midnight.

Kevin Brown, LAS deputy director of operations, said: ''We always see a rise in calls to our service in hot weather - but this weekend in particular there were a variety of reasons including the big turnout for the FA Cup final in Wembley.

''It is important people help us to respond to the most seriously ill and injured by only calling 999 in a genuine emergency.

''Anyone with a minor condition should consider other health care options such as visiting their GP, local pharmacy or calling 111.

''Many people call us with heat-related issues that could be avoided if they took more care in the sun, and we would again urge people to look after themselves.''

The service said it was urging people to check on friends, relatives and neighbours who could be vulnerable during the hot weather.

People are urged to wear hats when outside, use plenty of sun cream, drink plenty of water and avoid alcohol consumption in the sun. Medicines for conditions such as asthma and bronchitis should be carried, the service warned.