London Poppy Day
30 October 2014, 11:24 | Updated: 30 October 2014, 11:37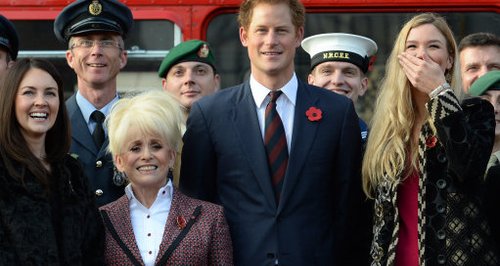 Barbara Windsor, Joanna Lumley and Stephen Fry are among the celebs who have been helping raise money for the Royal British Legion on London Poppy Day.
The voices of Stephen Fry and Joanna Lumley were among 21 famous voices heard on public announcements on the Tube and London buses on Thursday 30 October 2014.
EastEnders actresses Barbara Windsor, Lacey Turner and the boxer George Groves joined thousands of volunteers to help sell poppies and travelled around London on a 1960s Routemaster bus.
Prince Harry showed his support when the bus stopped at Buckingham Palace. This was its first stop on a journey from Covent Garden to Leadenhall Market.
This was an opportunity for Harry to thank the volunteers hoping to raise £1million for the Royal British Legion in 12 hours.
Passengers on the bus included the singer Joss Stone who teamed up with guitar legend Jeff Beck to record this year's official Poppy Appeal single.
Also on board were some of those the Legion has helped including Maurillia 'Simmi' Simpson.
Simpson left Trinidad and Tobago aged 16 with a dream to join the British army. In 1999 she moved to England, replied to the 'Be The Best' advert and joined the Royal Logistics Corps. She served three tours of Iraq before a motorist ran a red light, knocking her unconscious and leaving her in need of support for years to come.
Medically discharged in 2013, she joined The Royal British Legion's Bravo 22 Company, a unique theatre project for wounded, injured and sick military personnel, and went on to star in its critically acclaimed West End play 'The Two Worlds of Charlie F'.
She said: "It's very special to see everyone getting behind the Poppy Appeal and the work of The Royal British Legion. The Poppy is about remembrance but it also symbolises hope for the future of the living – for the Armed Forces community of all ages and their families."
London Poppy Day began in 2006 as a group of 10 collectors who raised £500. It is now the largest one-day street collection event of its kind and a key part of the Legion's national Poppy Appeal, launched with a sunrise-to-sunset 'Watch' at the Cenotaph last week.
By Armistice Day some 45 million Poppies will be distributed by 350,000 collectors with the aim of raising £40million.
Charles Byrne, Director of Fundraising for The Royal British Legion, said: "Many of the challenges facing those returning from that war affect Serving personnel, veterans and their families today. Whether it's finding employment or housing, coping with financial stress, or living with physical and psychological challenges, they can still call on the Legion for help. Ultimately it's public support that enables the Legion to provide that practical care – and why the Poppy Appeal is so important."
Joanna Lumley, Sir Terry Wogan, Emma Freud, Stephen Fry and Trevor Nelson were among 21 familiar voices heard reading public announcements across the London transport network. Players from Arsenal, Chelsea, Fulham, Queens Park Rangers, Tottenham Hotspur and West Ham were also among those urging commuters to wear their poppies with pride. The messages played at over 70 London Underground stations, on all 8,500 London buses and 11 Network Rail mainline stations.