London's Gherkin In A Pickle
24 April 2014, 16:10 | Updated: 24 April 2014, 16:11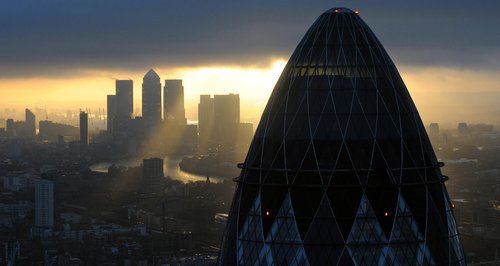 Iconic London skyscraper the Gherkin has been placed into receivership to try to remove uncertainty over its ownership.
The 41-storey office block, officially known as 30 St Mary Axe, was sold to IVG Immobilien for a record £600 million prior to the financial crisis in 2007 but the German property business has been mired in a debt crisis since then.

Business advisory firm Deloitte, which was today named as receiver, said its appointment by senior lenders followed ongoing defaults lasting five years.

Deloitte partner Neville Kahn said: "The Gherkin is a truly exceptional building, a landmark recognised around the globe.

"Our priority is to preserve the value of this asset. We are in the process of communicating with all tenants and working with the property manager to ensure the continuation of all property management services with no interruption to tenants."

Mr Khan said the building has been well leased since the initial default in 2009 and remains in "trophy" condition.

He added that interest rate and currency movements caused the total senior liabilities secured by the property to increase materially.

The Gherkin was designed for reinsurer Swiss Re by Lord Norman Foster, the architect behind the new Wembley Stadium and the Millennium Bridge in London. The building is still the headquarters of Swiss Re, which sold the property to IVG three years after it opened.

The German property firm last month agreed a debt for equity swap with creditors in a bid to tackle 3.2 billion euros (£2.6 billion) of outstanding loans.