Mayfair Smash And Grab
29 January 2015, 18:17 | Updated: 29 January 2015, 18:21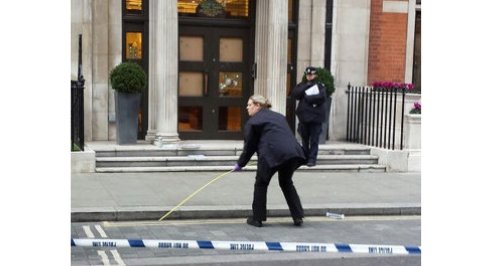 A jeweller in Mayfair that supplies the royal family has been targeted in a smash and grab robbery.
William & Son in London's exclusive Mayfair district was targeted on Thursday 29 January 2015 by thieves reportedly carrying metal baseball bats.

Images on Twitter showed a man with blood pouring from his head as a metal baseball bat lies on the pavement beneath the door to the shop, in Mount Street.

The luxury jewellery and riflemaker supplies goldsmith and silversmith services to the royal household.

One man wrote on Twitter: "Horrible smash and grab on Mount Street."

Another wrote: "Don't know for real or filming but something's just kicked off in Mount St!!"

The shop confirmed there had been a smash and grab raid this afternoon. But they declined to comment on the details, including what, if anything, was taken and if anyone was injured, because a police investigation has been launched.

On its website, William & Son say they "offer a fully bespoke service across its entire product range, allowing discerning customers to purchase an item tailored to their precise specifications".

It boasts of the "extensive knowledge" of their specialist staff and "long-established relationships with individual craftsman".

A police spokesman said officers were called to reports of a smash and grab at the store just before 12.30pm today.

He said: "At this stage, it is believed that around eight suspects riding motorbikes attempted to rob a jewellery store.

"The suspects failed to rob the store and left the scene empty handed in the direction of Tottenham Court Road.

"A man in his 50s received a head injury during this incident. He has been taken to a west London hospital for treatment. His injuries are not life threatening."

Officers from the Met's Flying Squad are investigating, and said no arrests had been made.
Anyone with information should contact police via 101 or call Crimestoppers anonymously on 0800 555 111.