More Bus Strikes Coming
28 January 2015, 18:12 | Updated: 28 January 2015, 19:14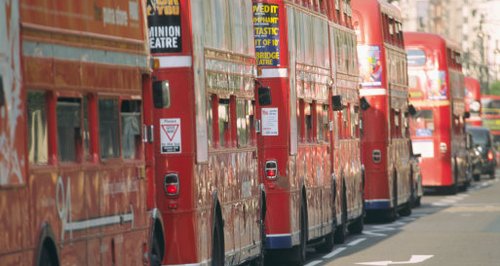 Bus workers in London are going to stage three fresh 24-hour strikes in a row over pay.
Members of Unite at 18 companies will walk out on 5, 13 and 16 February 2015, threatening travel misery for commuters, shoppers and visitors to London.

A strike on 13 January 2015 led to widespread disruption to bus services.

The union is campaigning for a single pay and conditions agreement across all the bus companies, saying wage rates can differ by £3 an hour.

Unite regional officer Wayne King said: "We have been working tirelessly in our efforts to bring the employers to the table to discuss a solution to this dispute.

"We firmly believe that there is a simple solution to be had but sadly the refusal by the operators to engage in collective talks is risking the inevitable disruption that strike action will bring to passengers.

"The travelling public understand that further strike action is the last resort and can be avoided if the operators agree to talk collectively about the pay chaos on London's buses.

"Bus passengers pay one fare, so why don't bus drivers get paid the same rate for doing the same job?

"We urge London's bus operators to see sense and collectively engage in talks to give London's bus workers a fair deal."

Unite said that, in contrast to Tube drivers, bus workers' pay is negotiated on a company by company basis leading to "inequality and disparities".

There are more than 80 different pay rates covering London's bus drivers, doing the same job, sometimes driving the same route but for different rates of pay, said Unite, adding that hourly rates vary from £9.30 to £12.34.