More Tube Strikes
17 April 2014, 18:53 | Updated: 17 April 2014, 18:55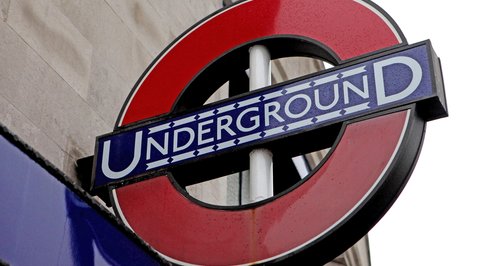 There are going to be five more days of Tube strikes as the row over ticket office closures continues.
Members of the Rail, Maritime and Transport (RMT) union will walk out from 9pm on Monday 28 April 2014 for two days and again from 9pm on Monday 5 May for three days.

The first two days of action will take place ahead of a May Day event in London in memory of former RMT leader Bob Crow, and politician and campaigner Tony Benn, who died within days of each other last month.

The union claimed that long-running talks hosted by the conciliation service Acas, aimed at settling the dispute over the closure of ticket offices and subsequent job losses were "wrecked by a combination of management intransigence and the introduction of additional measures" the union said worsened the original plans.

A statement said: "It has also been made crystal clear to the union that this is just a first tranche of cuts with even harder attacks being lined up for the near future."

RMT acting general secretary Mick Cash said: "The talks aimed at resolving the dispute on London Underground over the savage cuts to jobs, services and safety have been cynically wrecked by a Tube management who not only refused to budge an inch but who have chosen to up the ante by injecting further poisonous measures into a package that was already toxic to the core.

"Staff are furious that while senior management pay and staffing levels are being allowed to roar ahead the jobs and pay of the core, station based staff who are the interface with the travelling public are being torn to ribbons.

"The assurances that were given at the time RMT suspended the original action for a proper evaluation of the cuts plans have been ripped up and thrown back in our faces.

"An opportunity to resolve this dispute through eight weeks of talks hosted by Acas has not only been missed, it has been sabotaged.

"As a result, RMT has no option but to put on further strike action in the expectation that the management will now halt these dangerous cuts plans and engage in meaningful and serious talks on the future of a tube network running at full tilt, with further demands in the pipeline, which needs more staff and not less to operate safely."

Workers went on strike in February 2014 but further action was put on hold while talks were held.
TSSA Strike
Members of another rail union, the TSSA, employed as managers and supervisors at Transport for London, have voted to go on strike in a separate row over pay.

Phil Hufton, London Underground's chief operating officer, said: "Over the past eight weeks, we have met with our trade union colleagues on over 40 occasions, listening to their concerns and making significant changes as a result. I've committed to looking at ways to ensure that no one will lose pay and no supervisor will have to apply for their own job.

"There will be no compulsory redundancies and all requests for voluntary redundancy will be honoured.

"However, the RMT leadership has rejected these changes and has not put forward any credible alternative proposals.

"Next week, we will sit down again with the Aslef, TSSA and Unite unions for further discussions on our plans and how we can meet the needs of our customers in 21st century London.

"I urge the RMT to join us, rather than threaten further unnecessary disruption to Londoners. All a strike will achieve is lose those who take part pay for each day of action."

London Mayor Boris Johnson said: "It's a great shame that cool heads appear not to have prevailed among the RMT leadership.

"Three of the four unions involved in these negotiations are doing the sensible thing - talking, listening and discussing Tube modernisation with London Underground, around a negotiating table. We've had 40 meetings since the last strike was called off - only the RMT has walked away.

"In choosing the nuclear option by threatening yet more pointless strike action the RMT isn't even supported by a majority of its own union members.

"Rather than threatening more disruption to the lives of hard-working Londoners, they should call off the strikes and, like the three other unions, get back round the table and talk to London Underground."

John Allan, chairman of the Federation of Small Businesses, said: "The capital is bracing itself for more disruption with another round of strikes due to take place.

"The cost to small businesses for just two days of strike action earlier this year was estimated at £600 million, so many businesses will be rightly concerned about the potential impact five days will have.

"This is particularly unwelcome as the latest employment figures underlined that the UK economy is finally firmly back on track.

"We would encourage businesses to look at contingency plans for the next planned action.

"Ultimately, those businesses where staff and customers rely on the Tube could be put at a further disadvantage."

London Underground said it was aiming to "radically improve" customer service, with plans including a new 24-hour night Tube service at weekends and more staff visible and available at stations to help customers buy the right ticket, plan their journeys and keep them safe.

At the busiest stations new visitor information centres (VICs) will be set up to help tourists and visitors to London, and sell tickets.

"Given the success of Oyster and advances in online and ticket machine technology, the use of ticket offices has dramatically fallen. Today, less than 3% of journeys involve a visit to a ticket office.

"This trend is set to continue with the introduction of contactless bank card payment," said LU.