Officer To Face Murder Charge
30 July 2014, 18:21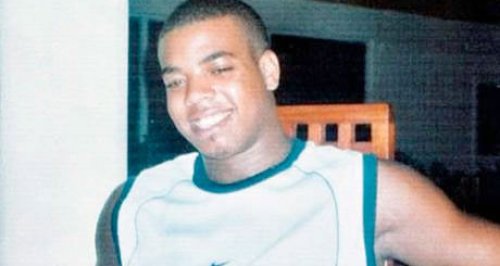 A former Met Police officer's going to be charged with murdering a robbery suspect shot dead by police.
The ex-officer, who shot Azelle Rodney (pictured) in 2005 after opening fire within a second of pulling up next to the car he was in, has only been identified as E7 after being granted anonymity during a public inquiry into the 24-year-old's death.

Mr Rodney's mother Susan Alexander said: "I am very pleased at the CPS's decision to prosecute the officer who killed my son. I have waited a long time to see this day and hope this prosecution will lead to justice for Azelle."

The 24-year-old died in Edgware, north London, after officers stopped the car he was travelling in with two other men, fearing that they were on their way to rob Colombian drug dealers and had a sub-machine gun.

Mr Rodney was hit six times, once each in the arm and back, and fatally four times in the head.

The officer will appear at Westminster Magistrates' Court on September 10.

Director of Public Prosecutions Alison Saunders said: "Azelle Rodney died after the discharge of a police firearm on 30 April 2005.

"Following the outcome of the public inquiry, the Independent Police Complaints Commission re-referred the matter to the CPS, providing us with the evidence previously gathered and the further evidence and material which has emerged since the initial referral.

"We have carefully considered the new file of evidence submitted to us and have decided that a former Metropolitan Police officer, currently identified only as E7, will be prosecuted for murder. The individual currently has anonymity.

"The decision to prosecute was taken in accordance with the Code for Crown Prosecutors. We have determined that there is a realistic prospect of conviction and that a prosecution is in the public interest."

In recent years there have only been a handful of cases where police officers were charged with murder while on active duty. One was Pc Chris Sherwood from Sussex Police, who was accused of murder but acquitted in 2001, after he shot James Ashley while he was naked when police searched his flat in East Sussex.

The BBC reported details of a second case, that of Metropolitan Police Pc Patrick Hodgson who was cleared in 1997 of the murder and manslaughter of suspected car thief David Ewin in south-west London.

Today's charge comes after a three-month public inquiry into Mr Rodney's death, chaired by former judge Sir Christopher Holland, found that his killing was not justified.

Sir Christopher said in his report: "There was no lawful justification for shooting Azelle Rodney so as to kill him.

"Granted that E7 had an honest belief that Azelle Rodney posed a threat to himself or to other officers, this threat was then not such as to make it reasonably necessary to shoot at him.''

He also said: ''E7's accounts of what he saw are not to be accepted. Prior to firing he did not believe that the man who turned out to be Azelle Rodney had picked up a gun and was about to use it. Further, on the basis of what he was able to see, he could not rationally have believed that.''

The officer had launched a legal bid to get the findings of the public inquiry overturned, but this failed.

Ms Alexander said that she was disappointed that the Metropolitan Police Commissioner would not face prosecution over the planning of the operation that ended with her son's death.

She said: "Whilst I am disappointed at the decision not to prosecute the Commissioner in relation to the failures which were found by Sir Christopher Holland regarding the planning and control of the operation, his report makes clear that there were significant failures on the part of the Metropolitan Police and we deserve an immediate and unreserved apology for those failures."

Her solicitor Daniel Machover said: "It is now over nine years since Azelle died and his family therefore looks forward to prosecutions taking place as speedily as possible in order that justice for Azelle can be achieved, and they can then look at trying to rebuild their lives."

Scotland Yard would not comment specifically on the case, but stressed that marksmen rarely fire their guns.

"The Metropolitan Police runs firearms operations daily to take guns off the streets," the force said.

"Our officers are highly-trained and professional and fire shots only once or twice a year. We accept that where this happens, our officers will be subject to detailed scrutiny.

"We keep our firearms tactics constantly under review and have accepted the recommendations made by the public inquiry into Azelle Rodney's death."

E7 had been supported in his legal battle by the Metropolitan Police Federation.

The officers's group said in a statement: "The Metropolitan Police Federation notes the CPS decision in the Azelle Rodney case, this is now an issue covered by the 'sub judice' rules and we will not be making comment on the specific case.

"In general terms the role of the Police Federation is to support officers in and around issues which have arisen as a result of their daily duties. This extends to welfare support and legal assistance where necessary and each case is decided on its own merits. The Federation fund rules allow such support to be given when officers have retired."