Paddington Trail
20 January 2015, 18:15 | Updated: 20 January 2015, 18:30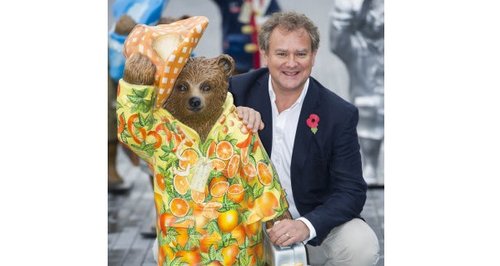 The Paddington statues put out across London before Christmas have raised more than £900,000 for the NSPCC's Childline service.
The bears - designed by a host of celebrities - were put out in a trail to coincide with the release of the new film Paddington.
Kate Moss, Jonathan Ross, Take That, Hugh Bonneville and Emma Watson were among those who decorated the bears. The unique artworks have since been auctioned off.
Boris Johnson's Bear of London eventually went to a bidder in East Asia for £32,000. Ant and Dec's 'Bear Humbug' was auctioned to the town of Fleet in Hampshire after a crowdfunding campaign supported by the local community.

NSPCC Chief Executive Peter Wanless said: "The Paddington Trail captured the hearts of Londoners and visitors alike in the run up to Christmas, and we are absolutely delighted to have been a part of it.
"Thanks to Paddington fans around the world, The Paddington Trail has raised over £930,000 – a fantastic result. This will help run our ChildLine services enabling our trained volunteers to answer hundreds of thousands of contacts from children.
"It will also allow us to update and modernise our services so children can contact us more easily and quickly online wherever and whenever they need us. Through ChildLine, we are giving children someone to turn to in the same way as Mr and Mrs Brown were there for Paddington."

The Mayor of London, Boris Johnson, said: "The Paddington Trail was a charming addition to London's streets and I am thrilled that my Bear of London and his assorted friends have raised such a fantastic amount for ChildLine.
"As Paddington embarks on his next adventure to a new home, the one thing that we can be sure of is that he has packed enough marmalade sandwiches to keep him going."

Singer and Strictly Come Dancing runner-up Frankie Bridge said: "I'm so proud to have been a part of The Paddington Trail and it's wonderful to hear that it has raised so much money for the NSPCC and its ChildLine service.
"I hope that my bear will be very happy in his new home, with plenty of marmalade sandwiches on offer!"

The money raised will help trained ChildLine volunteers provide advice and support to children 24 hours a day, 365 days a year, some of whom are going through the toughest times of their lives.
The money will also help continue to modernise the ChildLine service to reflect how children now prefer to get in touch.