Posh Opens Clothes Store
25 September 2014, 18:39 | Updated: 25 September 2014, 18:44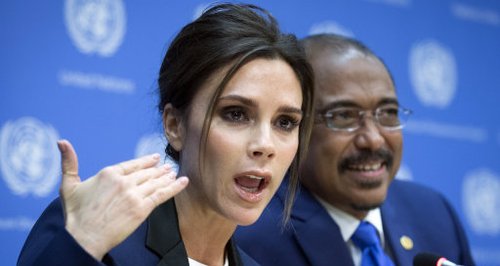 Victoria Beckham has opened her first clothing store in London.
The three-storey shop in trendy Dover Street, Mayfair, is the first in a series of stores she plans to open after launching her designer range online last year.

The former Spice Girl, who has a studio in Battersea, said her first store reflects that she is "not trying to be like everyone else".
Victoria missed the store's opening on Thursday 25 September 2014 because she was in New York to speak at the UN after being made a goodwill ambassador for the UN's AIDS campaign (picture).
Speaking about her store, she told the Evening Standard: "A lot of attention has gone into making things look really quite minimal because that's my taste.

"I'm not trying to be like anyone else.

"I want people to come in here and feel like it's me. I've only ever tried to be me."

Speaking of her steady climb in the fashion world, she said: "I probably don't stop to think about it as much as I should but I am very proud of myself.

"But then I'm always looking to the next thing. I'll always want to better myself."

The store will sell five Victoria Beckham collections, including a ready-to-wear range, accessories, sunglasses and denim.