Revenge Attacker Jailed
21 November 2014, 19:09 | Updated: 21 November 2014, 19:16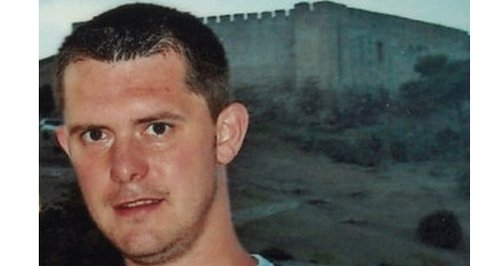 A man who stabbed another to death outside a pub in south London in a case of mistaken identity has been jailed for at least 23 years.
Christopher Foster, 34, (pictured) was stabbed in the back outside a pub in Borough, south London, on 29 November 2013.
His attacker, Aytach Lisani, 33, was sentenced at the Old Bailey having pleaded guilty to murdering the father of one.

Three more men from south-east London pleaded guilty to conspiracy to cause GBH part way through a trial and were sentenced by Judge Gerald Gordon alongside him.

Rocky Djelal, 34, was jailed for six years; Billy Dove, 30, for six and a half years; and Ali Lisani, 38 for seven and a half years.

Sentencing them, the judge said the revenge attack was not "spur of the moment" and it was intended to take place in a public place where many people were at the time.

The court previously heard that Mr Foster was targeted by a group of hooded men with bats and a knife as he enjoyed a last drink outside St Christopher's Inn in Borough High Street.

After being stabbed in the back, the victim staggered inside the pub and collapsed. He died in hospital an hour and a half later.

Prosecutor David Fisher told the jury Mr Foster had "not said or done anything at all that could begin to explain why he was stabbed".

His attackers had wrongly believed him to be another man, who cannot be named for legal reasons, who they blamed for an attack on Aydin Salih, the cousin of Aytach Lisani and an associate of others in the group, the court heard.

Salih, who is in Cyprus, was treated at St Thomas's Hospital after he was attacked on September 20 last year, the court heard.

Following the convictions, Mr Foster's mother Jean described him as "a good son, devoted dad and loyal friend".