Richmond London's Best For Life Quality
20 December 2014, 12:10 | Updated: 20 December 2014, 12:15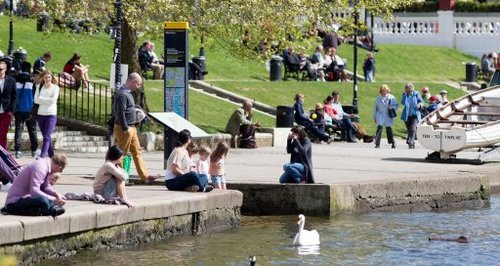 South-east England dominates a list of top locations to live in the UK with two areas of London ranking in highly.
Hart in north Hampshire has been named the place with the best quality of life for a fourth year in a row.

Elmbridge in Surrey and Winchester, which is also in Hampshire, came second and third on the annual "top 50" list compiled by Halifax - which was once again dominated by areas in the South East of England.

Two London boroughs made the top 50. They were Richmond upon Thames, in 15th place with residents being able to enjoy scenic river walkways and nearby attractions such as the Royal Botanic Gardens at Kew, as well as Kensington and Chelsea, placed at number 34.

People living in Kensington and Chelsea have the highest average weekly earnings in the study, at £1,372 per week, which is more than double the national average.

Nowhere in Wales, Northern Ireland or the South West of England made the top 50. Within Wales, Monmouthshire had the highest ranking, coming at number 98 overall in the survey, while the place that was ranked the highest in Northern Ireland was Fermanagh at number 138.

South Gloucestershire was named as the South West's most desirable region and was ranked at 60 overall.

The Halifax Quality of Life Survey placed Hart at the top spot once again as it scored highly on a number of measures, including residents' health and well being, education, employment levels, low crime rates, good weather and good broadband access.

The report, which is the ninth that Halifax has produced, crunches statistics from various sources to come up with an overall measure quality of life. Its sources include Office for National Statistics (ONS) data, figures from various government departments and information from the Met Office.