Rigby Appeals Thrown Out
3 December 2014, 19:21 | Updated: 3 December 2014, 19:33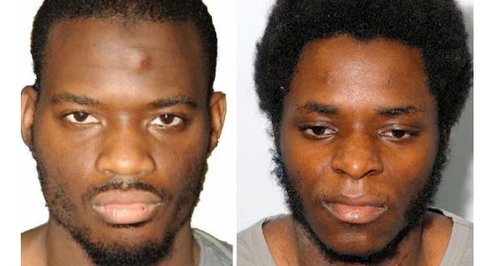 Lee Rigby's widow says "justice has been done" after judges threw out appeals by the soldier's killers.
Choking back tears, Rebecca Rigby said: "I would like to thank everyone who made today's verdict possible. We are relieved that this is over and justice has been done."

She was speaking outside court after Lord Chief Justice Lord Thomas, Lady Justice Hallett and Mr Justice Openshaw rejected conviction and sentence challenges brought at the Court of Appeal in London by Islamic fanatics Michael Adebolajo and Michael Adebowale, who "butchered" their victim in broad daylight.

Reading from a prepared statement, she told waiting journalists: "I would like to thank everyone for their continued support over the last 18 months and hope I can now build a future for my son Jack and ensure that his (Lee's) memory lives on."

There were gasps of relief from the public gallery as Lord Thomas announced the dismissal of attempts by Adebolajo, 29, to challenge both his conviction and whole-life sentence, and an appeal by co-accused Adebowale, 23, against his 45-year minimum term.

After the ruling, Fusilier Rigby's fiancee Aimee West said:"I am relieved and thankful with the outcome of today's hearing. I hope that this is the last we will hear from them both, so that I can focus on rebuilding my life and keeping Lee's memory alive."

Announcing the court's decisions in the case, Lord Thomas said of Adebolajo and Adebowale: "They inflicted upon the family of Fusilier Rigby suffering extremely difficult to describe, and something they must live with for the rest of their lives."

The crime had a "devastating" effect on the family.

The British-born Muslim converts ran 25-year-old Fusilier Rigby down in a car before hacking him to death with a meat cleaver and knives in a frenzied attack in Woolwich, south London.

Both men had "sought to murder a soldier in broad daylight", said Lord Thomas.

They intended to get maximum media coverage by then getting themselves killed and, as they saw it, going to "Paradise".

Rejecting Adebolajo's conviction challenge, the judge said it was plain that he had intended to commit "a barbaric crime" for political and ideological reasons "against our state and against civilised society".

And he said the court could see "no suitable basis" upon which it could be argued that the whole-life sentence was "not a just penalty for this horrific and barbaric crime".

Lord Thomas said the pair had "gloried" in what they had done.

Adebolajo's attempt to challenge his conviction was "misconceived" and "completely hopeless".

Proceedings were watched by Adebowale via video link from Broadmoor. Adebolajo had waived his right to do the same from Frankland Prison, County Durham.

The pair dumped the body of Fusilier Rigby, a father of one, in the middle of the road near Woolwich Barracks on May 22 last year.

They lay in wait near the barracks and picked Fusilier Rigby to kill after assuming he was a soldier because he was wearing a Help for Heroes hooded top and carrying a camouflage rucksack.

After driving into him, the killers - who had armed themselves with eight knives, including a meat cleaver and a five-piece set bought by Adebolajo the previous day - butchered him in the street in broad daylight in front of horrified onlookers.

Both men were shot by police in dramatic scenes captured by CCTV.

They claimed they were ''soldiers of Allah'' and were motivated by the plight of Muslims abroad to carry out the killing.

Both were convicted of murder at the Old Bailey and sentenced in February.

Explaining his decision to give Adebolajo a whole-life term, trial judge Mr Justice Sweeney said he was the leader of the murderous plot and had ''no real prospect of rehabilitation''.

Adebowale's younger age, mental health problems and ''lesser role'' meant that he escaped spending the rest of his natural life behind bars.