Rigby Memorial Planned
23 October 2014, 18:29 | Updated: 23 October 2014, 18:31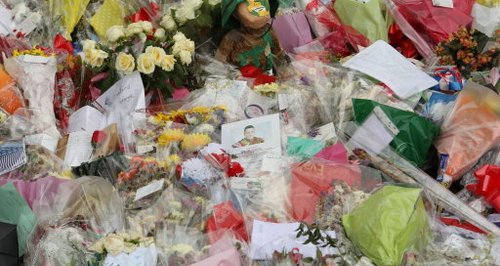 A permanent memorial's going to be put up close to where Soldier Lee Rigby was killed in Woolwich.
The Royal Borough of Greenwich said the stone would commemorate the sacrifice made by all servicemen and women who have served or lived in Woolwich.

The memorial, which will be located in the garden area of St George's Chapel, opposite Woolwich Barracks where Fusilier Rigby was based, has been agreed following discussions with the soldier's family.

The father-of-one's murder sparked shock across the country after he was run over with a car and then hacked to death by British Muslim converts Michael Adebolajo and Michael Adebowale in May last year.

Fusilier Rigby's wife, Rebecca Rigby, said: "I know St George's Chapel and it is a peaceful place and I think the memorial proposals will be fitting."

His mother, Lyn Rigby, said: "I support the council's plans and will feel able to visit the memorial in the chapel."

Council leader Denise Hyland described the chosen site as a "very fitting and peaceful location".

She said in a statement: "The Royal Borough of Greenwich has been in discussion with Lee Rigby's family to agree a proposal for a memorial in Woolwich.

"We have now agreed with Lee's family that a memorial will be located in St George's Chapel which is opposite Woolwich Barracks.

"The Chapel, run by Heritage of London Trust, was historically the Garrison church for the Royal Artillery and in recent years has been used for Remembrance Day services.

"The stone would be inscribed 'to mark Woolwich's history as a Barracks Town and to commemorate all those service men and women who have served or lived in Woolwich and who have given their lives in the service of their country'.

"In addition a Scroll will be held in Woolwich Town Hall listing the names of those commemorated to the present day and on-going.

"Fusilier Lee Rigby will always be remembered by us all, and particularly by the people of this borough."